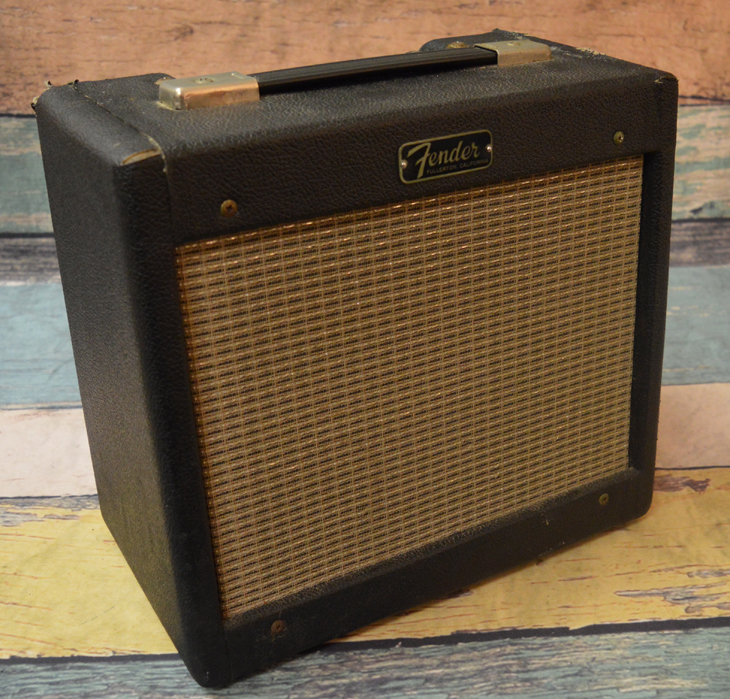 Fender Champ
$
1,795
.00
Preview
PID: 4377
1964 Fender Champ, rare transitional model 5F1 in black tolex finish, legendary low wattage combo with tube chart stamp dating to early 1964, all original transformers dated late 63, updated with a modern Jensen 8 inch speaker and safe three prong power chord, exceptional condition overall with no rips tears or stains in the grill cloth, Fender logo still firmly attached and only minor wear to through the tolex on the corners, this little amp sounds fantastic, perfect for studio recording , recently pro serviced and ready to rock!
View More Details
---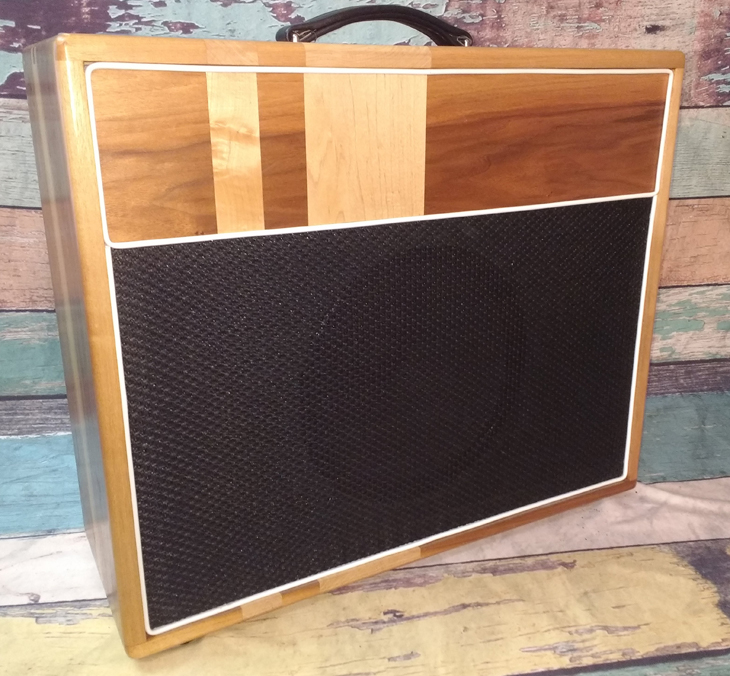 Miyako Designs 18W Boutique Marshall Clone
$
1,299
.00
Preview
PID: 4376
Miyako Designs handwired boutique made Marshall style 18 watt combo with a Celestion 25 watt G12M, stunning custom made cabinet signed and numbered 110008.This amp sounds fantastic, great overdriven tones at low volumes, with 2 channels that feature a single volume and tone control on the first channel and 3 way tone and volume control on second, this combo is in like new condition, with no tears snags or stains on the grill cloth and no nicks dings or scratches in the gorgeous hardwood cabinet, clean white piping is a nice accent around the grill and is in beautiful condition. This amp will look great on the stage, in your home or in the studio. Recently pro maintained and ready to go.
View More Details
---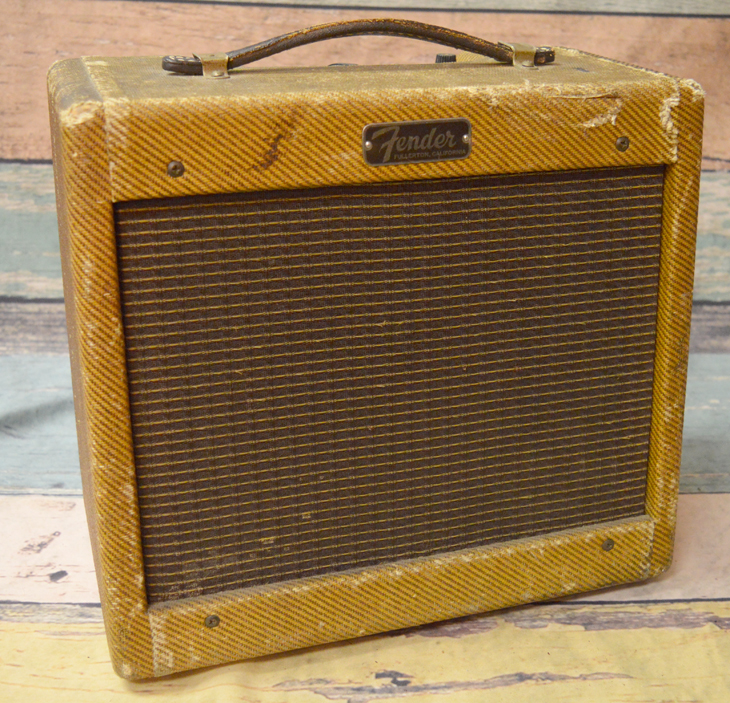 Fender Champ
$
1,849
.00
Preview
PID: 4374
1962 Fender Champ in tweed, 5F1 model that sounds phenomenal, this little legend is ready to rock, Pot codes and tube chart stamp date to early 62, maintains its original output transformer with a replaced choke, updated with a modern Jensen 8 inch speaker and safe 3 prong power chord, tweed has some minor wear at the corners but is in exceptional condition overall, original handle and Fender logo still attached, grill cloth is clean and tear free, control panel is clean with no corrosion and all controls are perfectly legible, recently pro serviced, this amp is perfect for the studio.
View More Details
---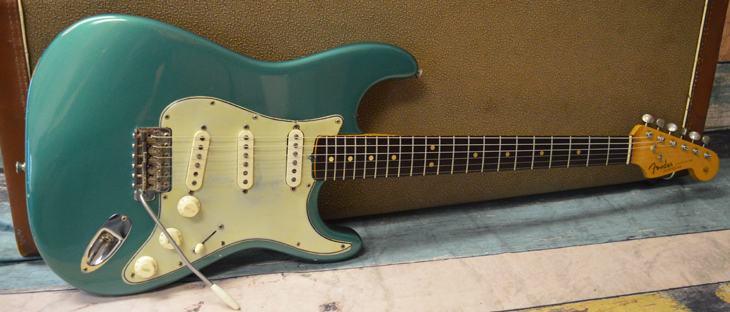 Fender Stratocaster
$
12,900
.00
Preview
PID: 4370
1964 Fender Stratocaster sounds and looks amazing with an old body only refin in Sherwood Green and all original parts. Fat neck that has worn smooth on the back, arrow straight with a Brazilian rosewood fingerboard and clay dots, frets that show little to no wear, unbent single line Kluson tuners, spaghetti logo, original mint green guard shows typical shrinkage around the pickup, amazing untouched factory pickups read 5.66 at the bridge, 5.95 in the middle, 6.5k at the neck, and are dated April 16 1964, pot codes date to late 63, absolutely no changes under the guard, weighs just 7lbs 7oz, comes complete with period correct brown tolex Fender case with an interior dyed brown ages ago? Recent pro set up with low action for easy playing. Do not let this one get away, looks, tone and feel at a bargain price.
View More Details
---

Fender Telecaster
$
4,449
.00
Preview
PID: 4369
1971 Fender Telecaster in blonde finish over ash body with white 3-ply guard, plays like a dream and sounds fantastic, all original instrument in exceptional condition, no routing or changes under the guard, Pot codes date to early 71 Maple neck with 69 date, frets show little sign of wear and have a lot of life. Back appears to have some color transfer from laying on a music book but no harm done and barely noticeable, pickups read 6.83k at the neck, and 5.62 at the bridge and 3.24 in the middle. Weighs 9lb 1oz, original unbent F-tuners, recent pro set up, complete with the original orange lined black tolex Fender hard shell case.
View More Details
---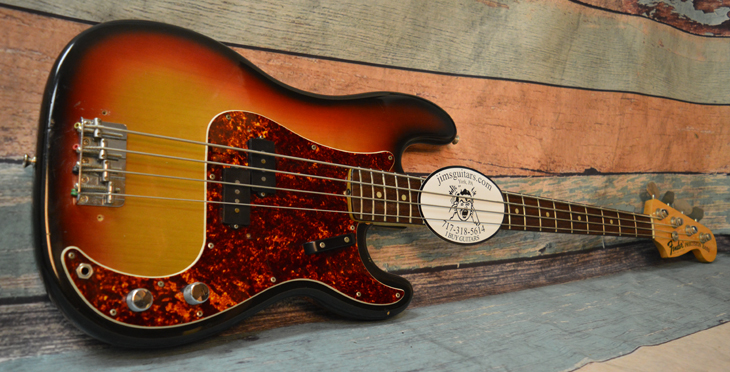 Precision Bass
$
5,995
.00
Preview
PID: 4365
This all original 1969 Precision bass is in exceptionally fine condition with no modifications or non factory routing, presented in sunburst with a stunningly patterned tortoise pickguard, this super-light bass weighs at an astonishing 8 lbs 7.6 oz, as with many Fender basses of this era, the bridge and pickup covers have been removed, and if not for the light wear to the finish on the back side of the upper horn, this guitar would approach mint condition. The volume and tone pot codes are both 137-6642 and the neck heel is stamped "5 May 69 B". Included is a new modern hard shell case, place your order quickly on this one... it may not last through the weekend!
View More Details
---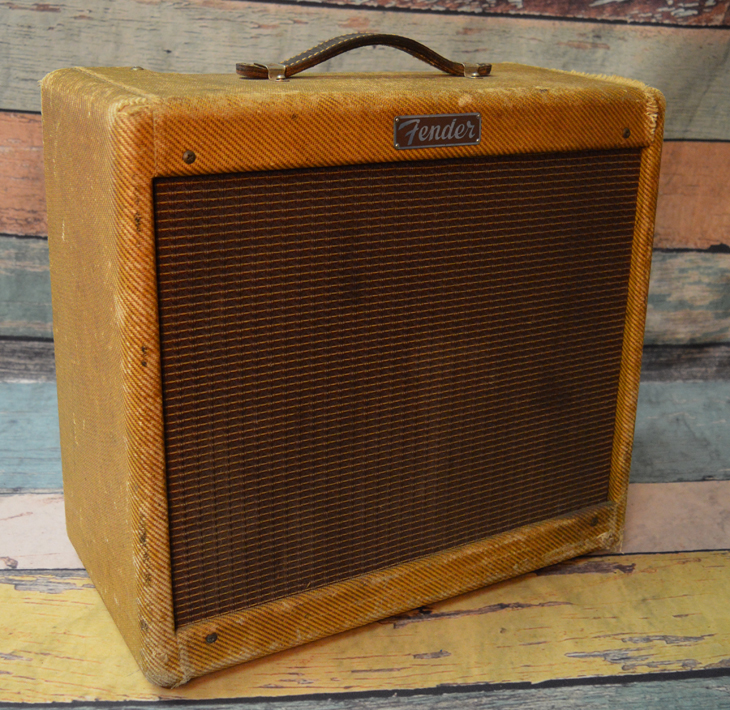 Fender Princeton
$
2,250
.00
Preview
PID: 4364
1957 Princeton, sweet low wattage tweed that's been recently serviced and is ready to rock, Tube chart stamped GE and pot codes date to late 56, all original transformers with some replaced caps to maintain its quiet operation, updated to a safe 3 prong power cable. Fender logo still attached, clean tear free grill cloth, overall the tweed is in exceptional condition with some light fraying at the top, original speaker with original wiring and solder connections. Sounds fantastic, great amp for the player or collector.
View More Details
---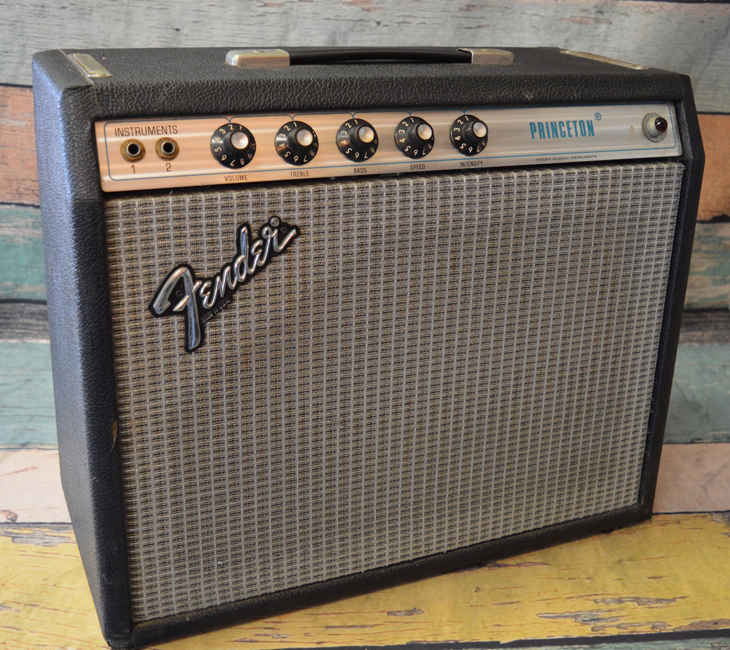 Fender Princeton
$
995
.00
Preview
PID: 4362
1979 Fender Princeton Amp, Quiet at idle and sounds fantastic with a great overdrive at low volume, perfect for the studio or stage. Recently pro serviced and ready to rock. Silver panel, Original CTS speaker with codes 1377922, pot codes 7911 all original transformers also date to 79, clean control panel, tolex covering is in good condition with a few minor blemishes, logo is firmly attached, no tears or stains in the grill cloth.
View More Details
---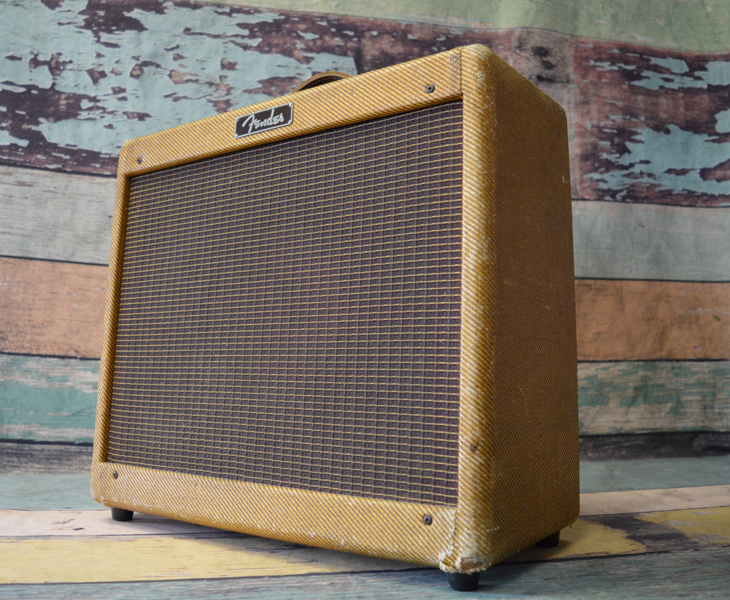 Fender Princeton
$
2,450
.00
Preview
PID: 4361
 A 1956 Fender Princeton in excellent condition And sounds great, not often we see an amp in this condition with all original transformers and the original Jensen speaker,The original tweed covering is completely in tact and firmly attached, as well as the original grill cloth. The original Fender name plate is also clean and firmly attached. there is minor to moderate wear on the cloth over the amp. The graphics on the control panel are clear and undisturbed. All of the electronics are in good working condition. The Fender Princeton is perfect for the living room or studio, and is sure to deliver that classic Fender tone, don't let this one get away!
View More Details
---