Fender Precision Bass
$
2,995
.00
Preview
PID: 4393
A 1973 Fender Precision Bass with RARE factory white guard! All original condition. This instrument is perfect for players and collectors alike. The bass itself weighs in at 8 Lbs 11.6 Oz, and the original pickup still reads a strong 10.21 K Ohms. The neck and frets show very little wear and the action is low and comfortable for play. The original finish is present and still glossy with only moderate wear. The original pickup cover and bridge cover are also present with minor signs of use. All of the moving hardware is clean and functioning perfectly. There is some moderate to heavy buckle rash and wear on the back and on the lower sides and front from use, but the original and RARE white guard! Pickguard is clean and firmly attached with no cracks or chips. The headstock is very clean, with only minor wear around the edges. All in all this is a sweet 70's Precision bass with that classic Fender tone, ideal for the performing or recording. Includes modern hard shell case.
View More Details
---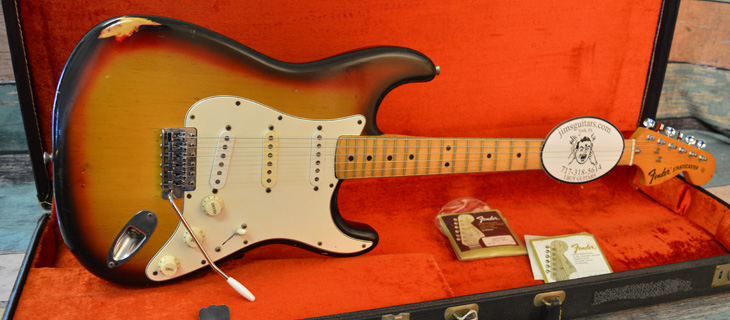 Fender Stratocaster
$
2,995
.00
Preview
PID: 4392
1974 Fender Stratocaster, in a gorgeous sunburst finish, beautiful guitar with all original stagger pole pickups that sound fantastic. Output of 5.5k at the neck, 5.53 in the middle and 6.03k at the bridge, updated with a replaced volume pot and 5-way switch, original 3-way is included, easy tremolo action as current setup has only 3 springs, 2 more springs are included, lightweight at just 7lbs 15oz, neck date reads late 73 and pot codes date to early 74, shows some cosmetic wear typical of guitar this age but still in very good condition, the body cavity has been routed from the bridge pickup to the control cavity, maple neck with frets that still show a lot of life, original F-tuners, bullet truss rod, and micro tilt neck, comes complete with period correct string set and a very well kept original black/orange Fender hard shell case.
View More Details
---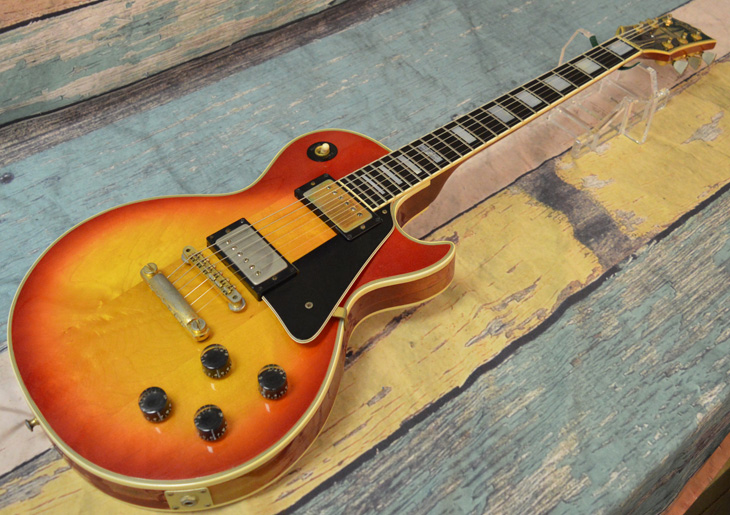 1974 Gibson Les Paul Custom 20th anniversary
$
3,496
.00
Preview
PID: 4391
1974 Gibson Les Paul custom 20th anniversary in the classic Cherry sunburst finish,. The 20th anniversary Les Paul is a recognized benchmark guitar and this one is in excellent all original condition., a shop favorite! Massive sustain and playability! Featuring gold hardware, embossed pat # pick-ups with the original super smooth grover tuners, pat # Tune-O-Matic bridge, ebony fretboard, 3-piece mahogany neck, thin binding in the cutaway, 6 digit serial with Made in USA stamp on the back of the headstock. The top of the guitar is in excellent condition, however the gold plating is showing some wear, minimal fret wear on the lower frets. Weighing in at 9lbs 8oz, nearly perfectly matched pickups with the neck at 7.66k and bridge at 7.68k, includes modern chain saw hard shell fitted case.
View More Details
---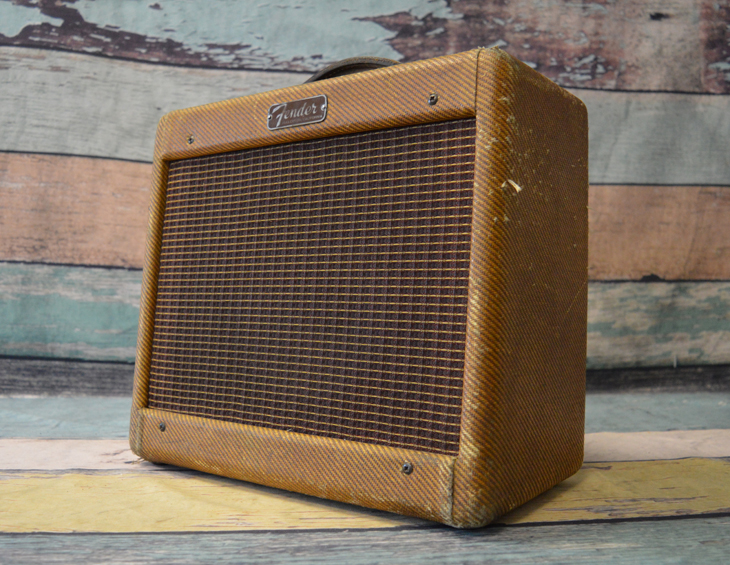 Fender Champ
$
1,895
.00
Preview
PID: 4388
 A 1959 Fender Champ in very good condition. The classic Fender champ has been the king of tone in the small combo world since it's inception. The original handle is still firmly attached, as well as all of the original tweed covering. The tweed shows some moderate wear from age and use, but doesn't have any major rips, tears or stains, and the original Fender badge is still attached on the front of the amp. The original grill cloth is near perfect, with no rips, tears, stains or snags to be seen. The amplifier itself has been professionally rebuilt by the world famous Alessandro High End Products, and works perfectly and sounds great.
View More Details
---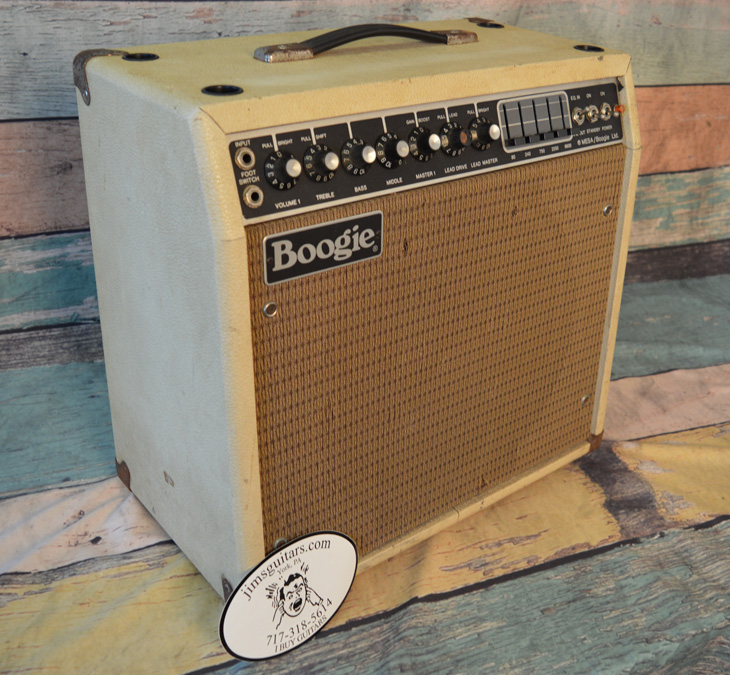 Mesa Boogie 1983 Mesa Boogie Mark II-b
$
1,299
.00
Preview
PID: 4387
Check out this 1983 USA made Mesa Boogie Mark II-B series combo amplifier. This model is a 60w-100w combo at the flip of a switch, with a 12" Electro-Voice EVM-12L 200w Speaker. This amp is powerful and heavy! It features: Pull/Lead, Pull/Shift Treble and Pull/Bright Effects Loop 2 4ohm extension outs Onboard 5band EQ Built in Reverb Great looking amp in blonde. Overall is in very good condition, has some wear commensurate with its age and use. mechanically sound If you have any questions or require specific photos, please don't hesitate to ask. All of our items are professionally packed using an industrial paper packing machine. Please remove all packing from inside the amp when you receive the item.
View More Details
---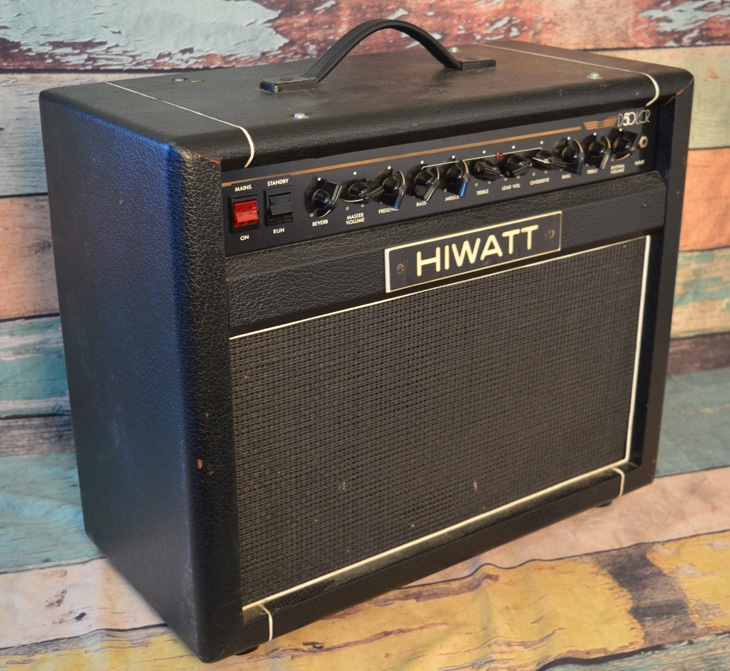 HIWATT HIWATT D50 LCR
$
995
.00
Preview
PID: 4386
1980s era HIWATT d50 LCR in excellent condition. 2-Channel, high-gain amplifier with a single 12 Celestion G12T-75 with 2 speaker output (can drive an additional cabinet), line out for DAW/PA connection, spring reverb. Shows some signs of wear consistent with its age and use. Great for a home or traveling musician.
View More Details
---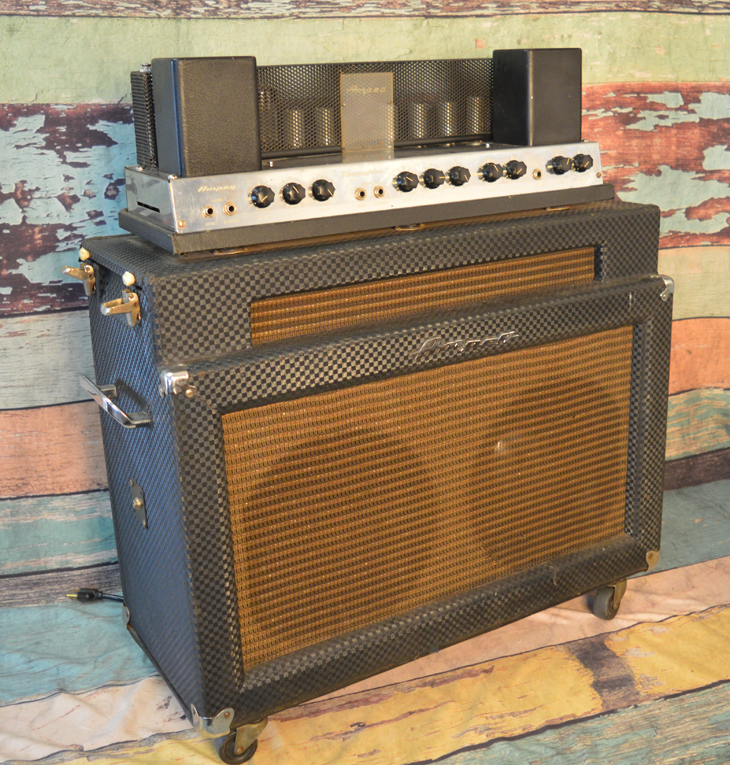 Ampeg 1965 Portaflex B-12XT
$
1,299
.00
Preview
PID: 4384
This original Ampeg Portaflex B-12XT flip-top amp is a tonal beast and is presented in excellent condition! The 2x12 speakers are driven by 50 watts through 2X7027A power tubes; at low volumes, the cleans are super crisp and with articulate mids and highs and a low end that brings a fullness to the overall tone that's hard to beat... crank it and put the tubes to work and it breaks up nicely with a super driven blues tone! With 2 channels, 4 inputs, reverb, and vabrato, the tonal options are wide ranging and sure to produce a sound that will inspire you, so place your order now! This amp is in great shape with age appropriate wear to the still shiny checkerboard tolex that would be expected on a gigging amp, the all original knobs, switches operate properly and the script on the control plate is crisp and clear, the front Ampeg logo was once repaired, and the brown mesh grill that was offered between 1962 and 1965 looks super with no staining and very little wear. This item is in used condition and may have mild wear, dings, dents, patina, or scratches commensurate with its age and use. If you have any questions, please contact us prior to placing your order.
View More Details
---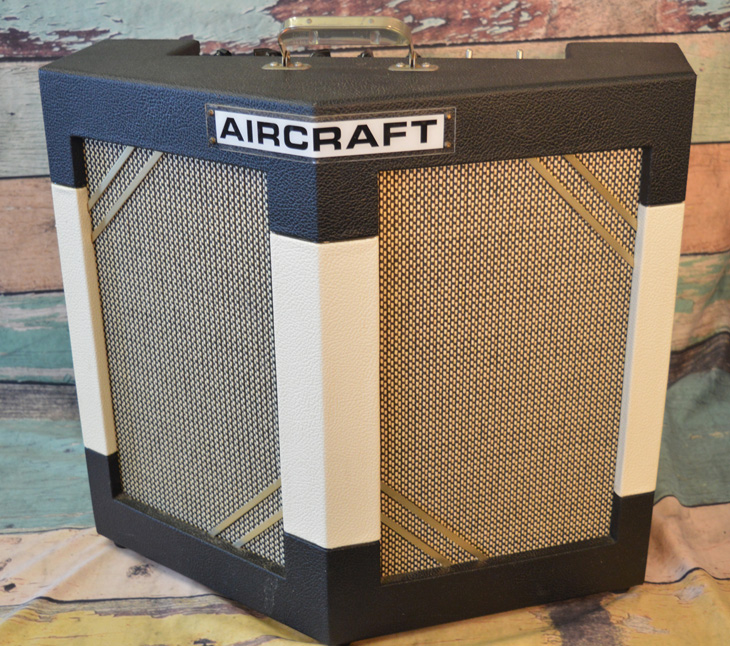 Aircraft Aircraft Atomic 20
$
1,299
.00
Preview
PID: 4383
This limited run Amp is absolutely stunning to look at, A faithful reproduction of the iconic Watkins dominator, 18 watt forerunner of the Marshall 18 watt combo. The Atomic 20 produces BIG sound to match. 100% American hand made this is one unique piece, utilizing their exclusive V-Front technology to create 3d depth and projection, powered by a single pair of EL84 power tubes. While 3 12AX7's make up the preamp, with a pair of custom designed 10" loudspeakers, high & low gain switching through a push/pull gain knob, independent output volume control, 3-band Equalizer (bass, mid & treble). This atomic 20 delivers no matter what you plug into it!
View More Details
---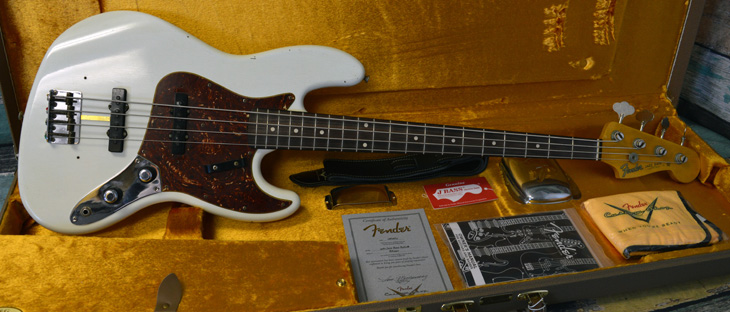 Fender 2015 Custom Shop 1960 Journeyman Jazz Bass Relic
$
2,995
.00
Preview
PID: 4381
 This particular 2015 Fender Custom Shop 1960 Jazz Bass Relic is in excellent condition. There is very little actual wear on the entire instrument. Owned by a collector, this instrument was definitely kept well. There is almost no wear to be seen on the frets, and there are no nicks or dings on then body apart from the simulated wear from relic work by Fender. Comes complete with the original Custom Shop hard shell case, all certificates and hang tags.
View More Details
---