| | |
| --- | --- |
| 7 Total Results | Page 1 of 1 |

Fender Precision Bass
$
2,995
.00
Preview
PID: 4393
A 1973 Fender Precision Bass with RARE factory white guard! All original condition. This instrument is perfect for players and collectors alike. The bass itself weighs in at 8 Lbs 11.6 Oz, and the original pickup still reads a strong 10.21 K Ohms. The neck and frets show very little wear and the action is low and comfortable for play. The original finish is present and still glossy with only moderate wear. The original pickup cover and bridge cover are also present with minor signs of use. All of the moving hardware is clean and functioning perfectly. There is some moderate to heavy buckle rash and wear on the back and on the lower sides and front from use, but the original and RARE white guard! Pickguard is clean and firmly attached with no cracks or chips. The headstock is very clean, with only minor wear around the edges. All in all this is a sweet 70's Precision bass with that classic Fender tone, ideal for the performing or recording. Includes modern hard shell case.
View More Details
---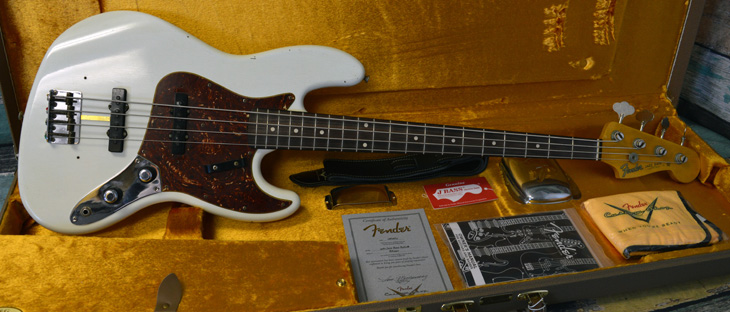 Fender 2015 Custom Shop 1960 Journeyman Jazz Bass Relic
$
2,995
.00
Preview
PID: 4381
 This particular 2015 Fender Custom Shop 1960 Jazz Bass Relic is in excellent condition. There is very little actual wear on the entire instrument. Owned by a collector, this instrument was definitely kept well. There is almost no wear to be seen on the frets, and there are no nicks or dings on then body apart from the simulated wear from relic work by Fender. Comes complete with the original Custom Shop hard shell case, all certificates and hang tags.
View More Details
---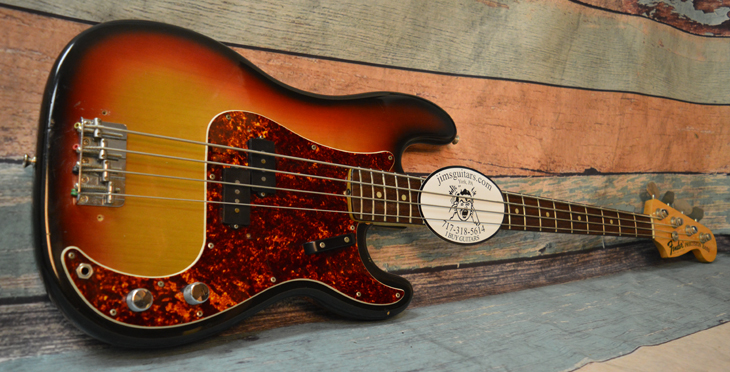 Precision Bass
$
5,995
.00
Preview
PID: 4365
This all original 1969 Precision bass is in exceptionally fine condition with no modifications or non factory routing, presented in sunburst with a stunningly patterned tortoise pickguard, this super-light bass weighs at an astonishing 8 lbs 7.6 oz, as with many Fender basses of this era, the bridge and pickup covers have been removed, and if not for the light wear to the finish on the back side of the upper horn, this guitar would approach mint condition. The volume and tone pot codes are both 137-6642 and the neck heel is stamped "5 May 69 B". Included is a new modern hard shell case, place your order quickly on this one... it may not last through the weekend!
View More Details
---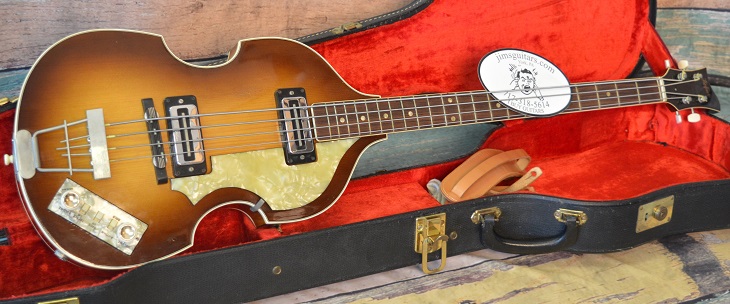 Hofner Model 500/1 Beatle Bass
$
2,299
.00
Preview
PID: 4302
1967 Hofner Model 500/1 Beatle bass in sunburst finish, all original example semi-acoustic, bound body in violin shape with 2 pickups and glued in neck. Made famous by Paul McCartney, this short scale, easy playing hollow-body bass weighs in at only 4lbs, 9.5 oz.! Original hard shell case included.
View More Details
---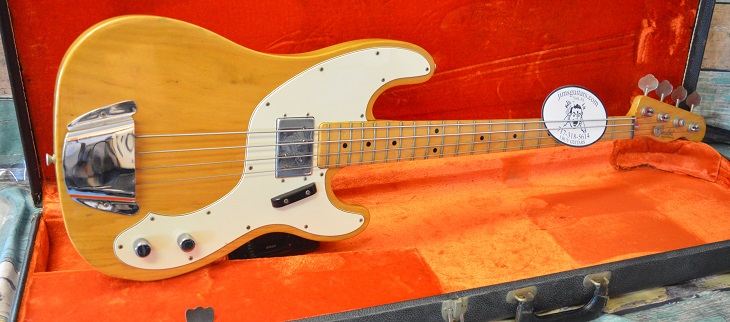 Fender Telecaster Bass
$
2,999
.00
Preview
PID: 4300
1973 Fender Telecaster bass in natural finish, all original example with humbucking pick up and 34" scale maple neck, slab style 50's Precision bass body weighs 11 pound 3oz, original hard shell case included.
View More Details
---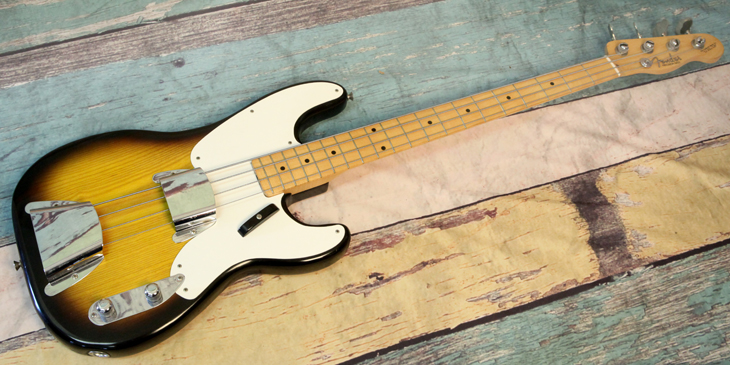 Fender Precision Bass
$
14,900
.00
Preview
PID: 4208
1955 Fender P-Bass, gorgeous, all original early model in 2 tone sunburst finish over a very tight grained ash body with little to no play wear, maple neck with original frets, no bodyrouting or modifications, amazing amounts of thump, complete with the original pick up and bridge covers, includes a modern hardshell case.
View More Details
---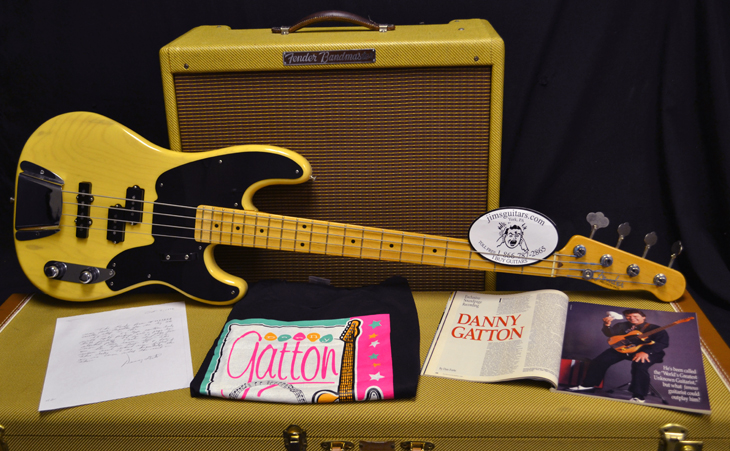 Fender P/J Bass Custom Made for Danny Gatton
$
15,000
.00
Preview
PID: 3947
1992 P/J Bass built by the Fender Custom Shop specifically for Danny Gatton, features a 54-style contour body with split P-bass pickup and jazz bass bridge pickup with stacked pots, according to Danny's handwritten letter this bass has Fender's last '51 P-bass reissue neck which was fitted to this body and no others exist in this configuration. Also includes original custom-printed t-shirt, original March 1989 Guitar Player Magazine with a Soundpage Recording article on Danny Gatton, as well as an article on classic Fender basses! Comes complete with the original tweed Fender hardshell case.
View More Details
---
Page 1 of 1
7 Total Results : Pages : 1 &nbsp&nbsp