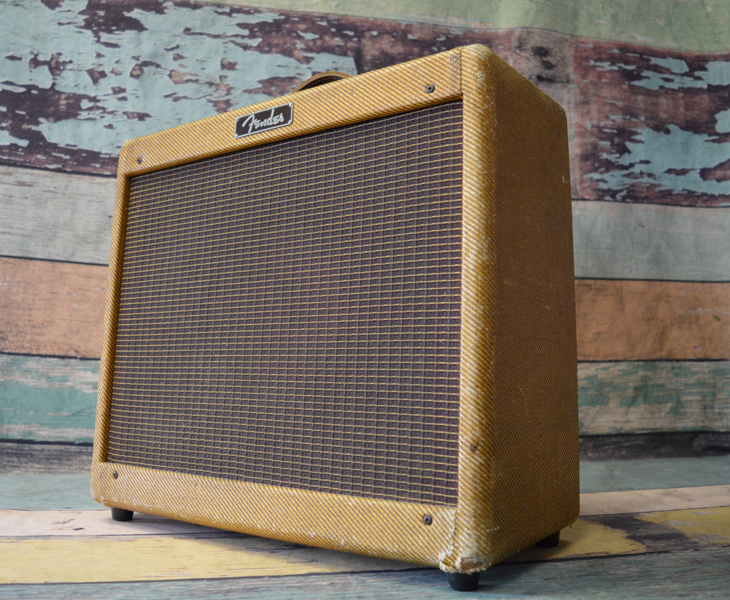 Fender Princeton
$
2,450
.00
Preview
PID: 4361
 A 1956 Fender Princeton in excellent condition And sounds great, not often we see an amp in this condition with all original transformers and the original Jensen speaker,The original tweed covering is completely in tact and firmly attached, as well as the original grill cloth. The original Fender name plate is also clean and firmly attached. there is minor to moderate wear on the cloth over the amp. The graphics on the control panel are clear and undisturbed. All of the electronics are in good working condition. The Fender Princeton is perfect for the living room or studio, and is sure to deliver that classic Fender tone, don't let this one get away!
View More Details
---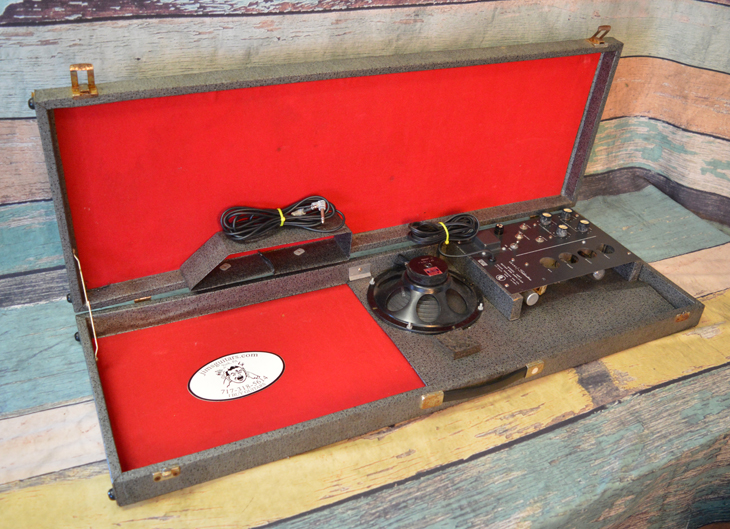 Silvertone Amp in Case 1457
$
349
.00
Preview
PID: 4345
This 1966 Silvertone 1457, amp-in-case is in excellent condition, 2 channels with tremolo effect, recently serviced, original Jensen Blue label speaker and the pot codes read 1376547. beautiful cosmetic condition no major rips or tears and no funky odors, all hinges are firmly attached. Includes original footswitch cable, call today!
View More Details
---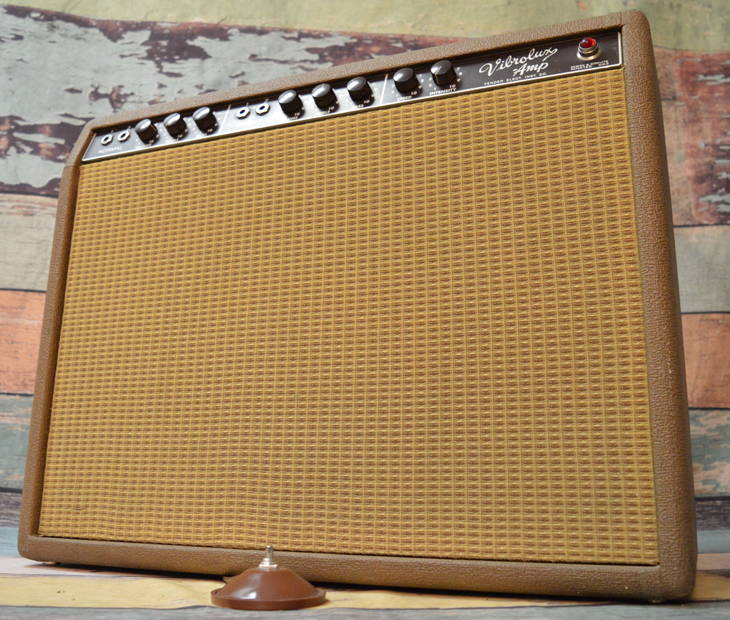 Fender 1962 Vibrolux Amp
$
4,250
.00
Preview
PID: 4336
 A 1962 Fender Vibrolux Amp in exceptionally fine, all original, museum quality condition. super clean panel with clearly visible graphics, no scratchy pots. Virtually no wear on the brown tolex covering, no rips, tears, or stains on the original grill cloth. This amp is just as it left the factory, with the exception of an upgraded power cord for safety, all original pots, caps, and transformers. perfect for collectors, there are no other examples of this amp in this level of condition for sale today. Be sure to make this yours before somebody else does.
View More Details
---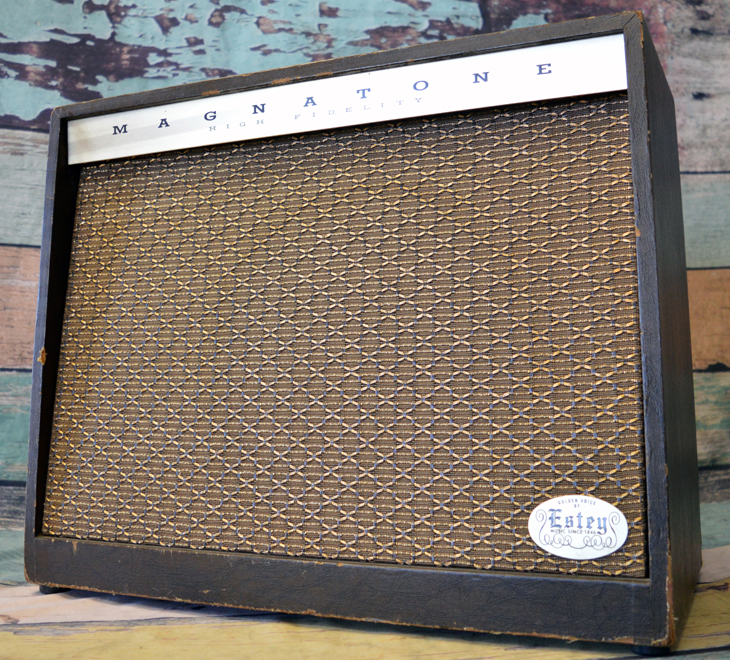 Magnatone Custom 440
$
1,799
.00
Preview
PID: 4330
1963 Magnatone Custom 440 in excellent, all original condition. Recently professionally serviced. Very little wear on the exterior covering, except for some minor dings around the edges. original grill cloth is perfect with no rips, tears, or stains. The control panel is clean and all of the graphics are clearly legible. All of the knobs and switches move smoothly with no stickiness or scratchiness. All original electronics, including the pots, caps, speaker, and transformers. Includes the original cover and an original catalog from Magnatone with all the amps specs. All in all, this is a phenomenal, hard to find and amazing sounding amp, perfect for home and studio, don't let this one get away!
View More Details
---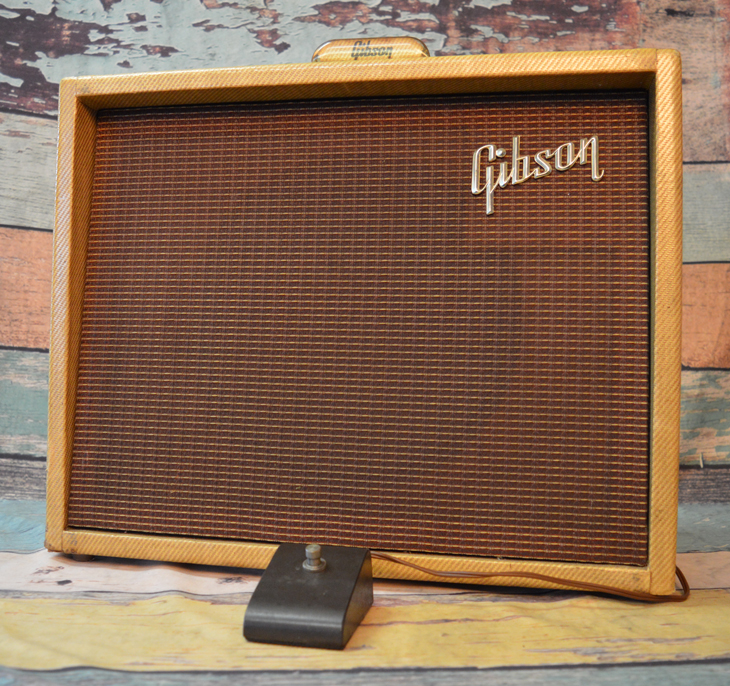 Gibson GA-20T Ranger
$
2,250
.00
Preview
PID: 4322
This 1959 Gibson GA-20T Ranger is in exceptionally fine condition. Truly museum quality, this amplifier functions as designed, is all original, and comes complete with mahogany tremolo footswitch, original instruction manual and wiring schematic, serial number is 37098 and the speaker code is 220913. This one is for the serious collector or anyone that appreciates the fine tone of these 1959 series amplifiers!
View More Details
---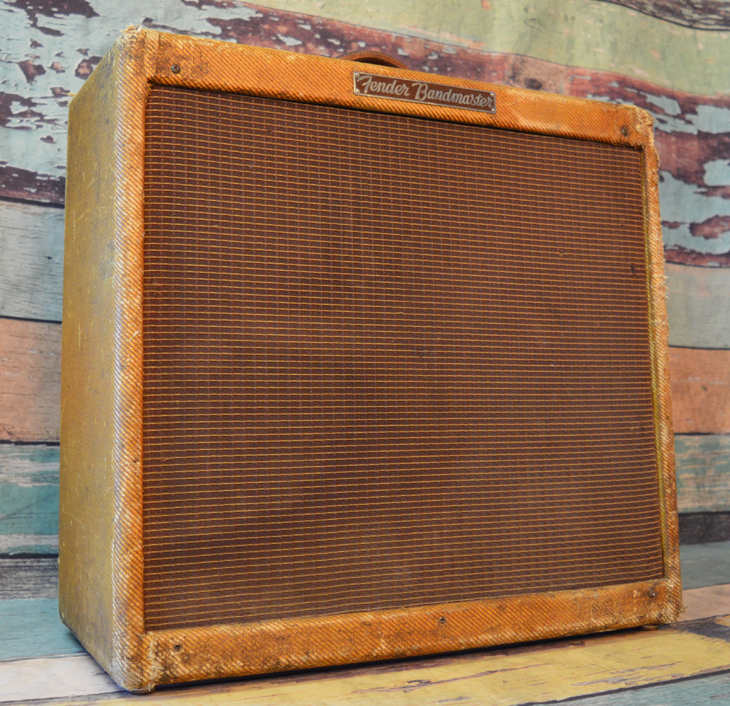 Fender Bandmaster
$
10,999
.00
Preview
PID: 4320
1957 Fender Bandmaster in tweed, 5E7 model with legendary tone, all original transformers with upgraded Jensen P10R reissued speakers, GF tube chart stamp, clean tear free grill cloth and logo still attached, control panel is rust free and still clearly legible, recently serviced with some replaced caps and our handmade replica handle, 2 original speakers and the handle are included, impossibly hard to find with the original electronics, get it quick.
View More Details
---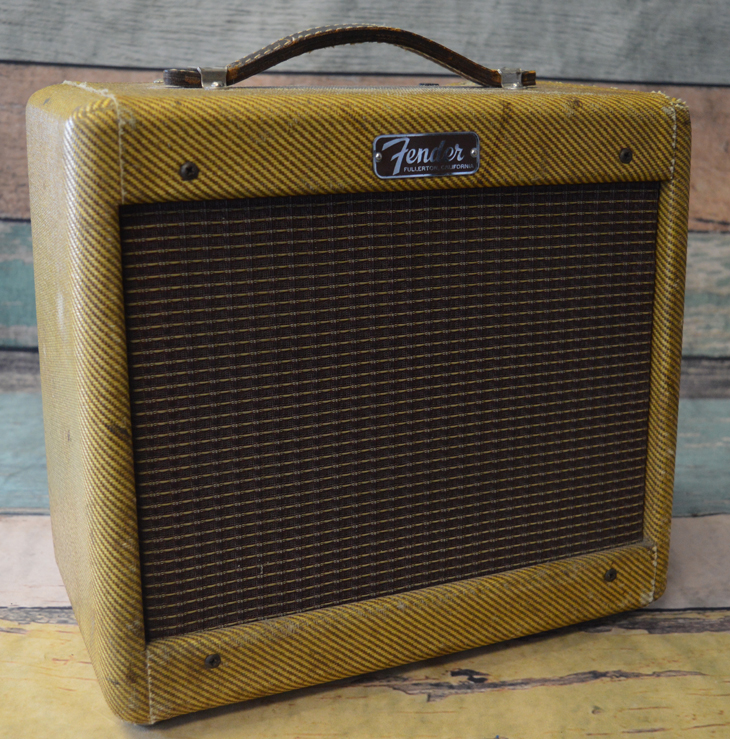 Fender Champ Amp
$
1,899
.00
Preview
PID: 4309
1959 Fender Champ Amp in tweed, this legendary 5F1 model is in excellent condition, original grill cloth is near perfect with no rips or tears, the original tweed covering shows moderate wear typical of an amp this age, but no signs of separation or fraying at the corners, electronics conform to factory specifications, with the exception of a changed speaker, original handle and logo are present, the labeling on the control plate is clearly legible, the amp still has it's original two pong power cable. The Champ Amp has been a Fender favorite for a long time, don't miss out on this exceptional vintage amp.
View More Details
---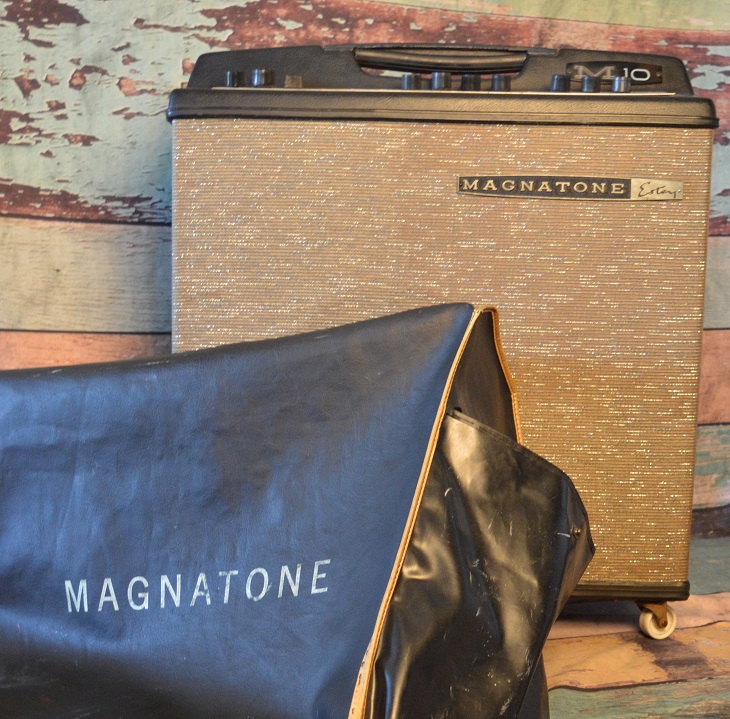 Magnatone M10A
$
1,499
.00
Preview
PID: 4283
1967 Magnatone M10A in excellent condition, suitcase-style lift-top construction, stereo capability with ext. speaker out, built in reverb and tremolo, Clean though discolored grille cloth but no rips or tears, Estey badge still attached, shows wear consistent with age, amp is in all original condition, the ultimate studio amp for those in the know. This amp is complete with the power cable and original Magnatone cover.
View More Details
---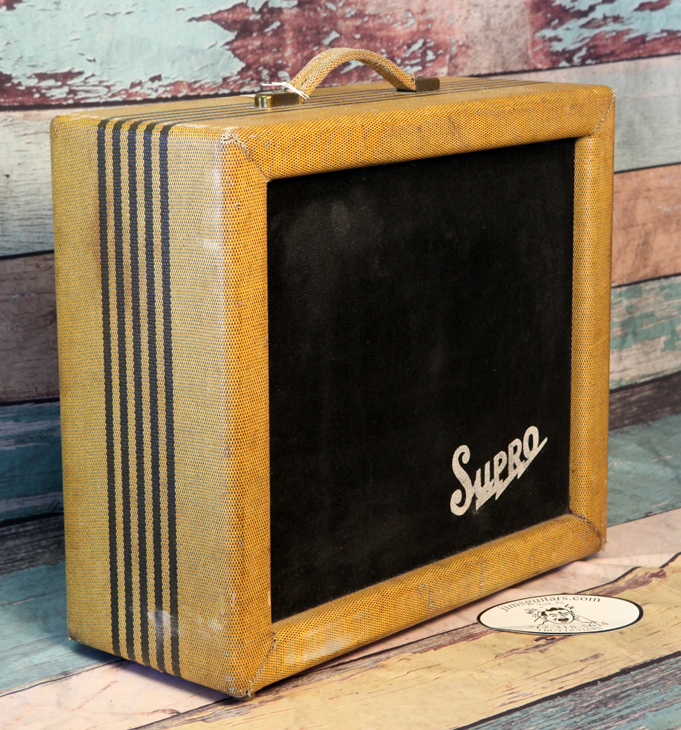 Supro Brentwood
$
2,499
.00
Preview
PID: 4255
1956 Supro Brentwood 1650T, exceptional all original condition, very rare model only produced in 56, dual 6x9 speakers, 2 channel amp with tremolo circuit, original handle still attached and in excellent cosmetic condition overall with no major tears in the tweed or grill cloth, original metal cased RCA tubes, recently pro serviced and sounds absolutely fantastic, you wont find another this nice.
View More Details
---