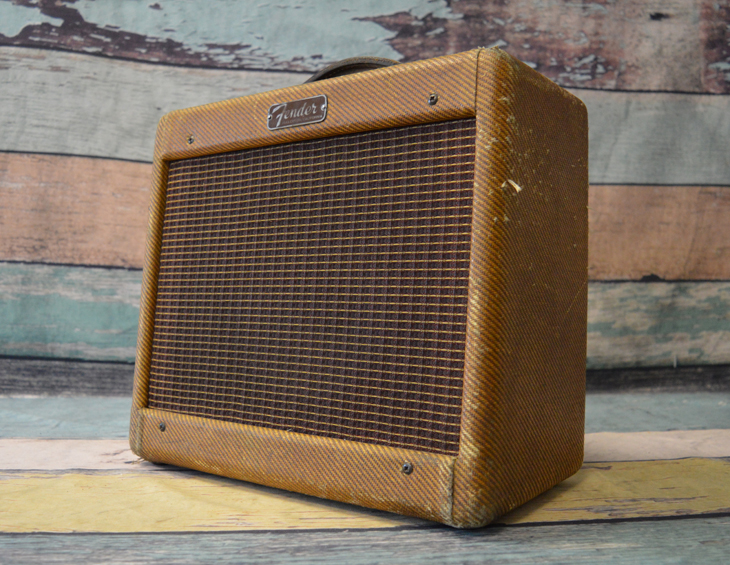 Fender Champ
$
1,895
.00
Preview
PID: 4388
 A 1959 Fender Champ in very good condition. The classic Fender champ has been the king of tone in the small combo world since it's inception. The original handle is still firmly attached, as well as all of the original tweed covering. The tweed shows some moderate wear from age and use, but doesn't have any major rips, tears or stains, and the original Fender badge is still attached on the front of the amp. The original grill cloth is near perfect, with no rips, tears, stains or snags to be seen. The amplifier itself has been professionally rebuilt by the world famous Alessandro High End Products, and works perfectly and sounds great.
View More Details
---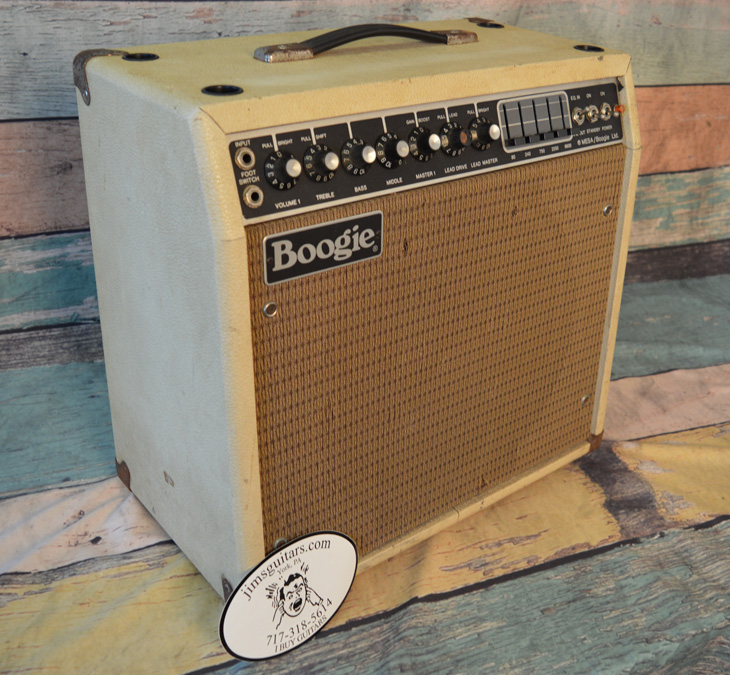 Mesa Boogie 1983 Mesa Boogie Mark II-b
$
1,299
.00
Preview
PID: 4387
Check out this 1983 USA made Mesa Boogie Mark II-B series combo amplifier. This model is a 60w-100w combo at the flip of a switch, with a 12" Electro-Voice EVM-12L 200w Speaker. This amp is powerful and heavy! It features: Pull/Lead, Pull/Shift Treble and Pull/Bright Effects Loop 2 4ohm extension outs Onboard 5band EQ Built in Reverb Great looking amp in blonde. Overall is in very good condition, has some wear commensurate with its age and use. mechanically sound If you have any questions or require specific photos, please don't hesitate to ask. All of our items are professionally packed using an industrial paper packing machine. Please remove all packing from inside the amp when you receive the item.
View More Details
---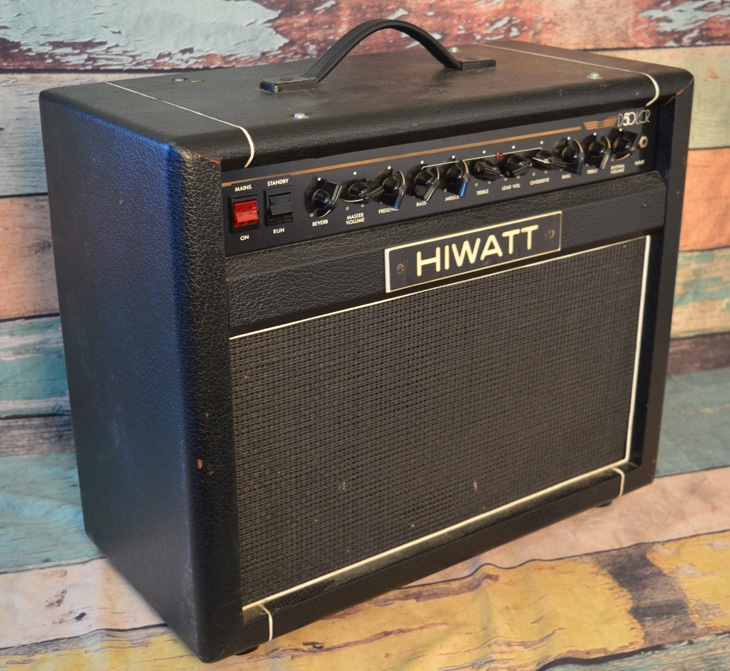 HIWATT HIWATT D50 LCR
$
995
.00
Preview
PID: 4386
1980s era HIWATT d50 LCR in excellent condition. 2-Channel, high-gain amplifier with a single 12 Celestion G12T-75 with 2 speaker output (can drive an additional cabinet), line out for DAW/PA connection, spring reverb. Shows some signs of wear consistent with its age and use. Great for a home or traveling musician.
View More Details
---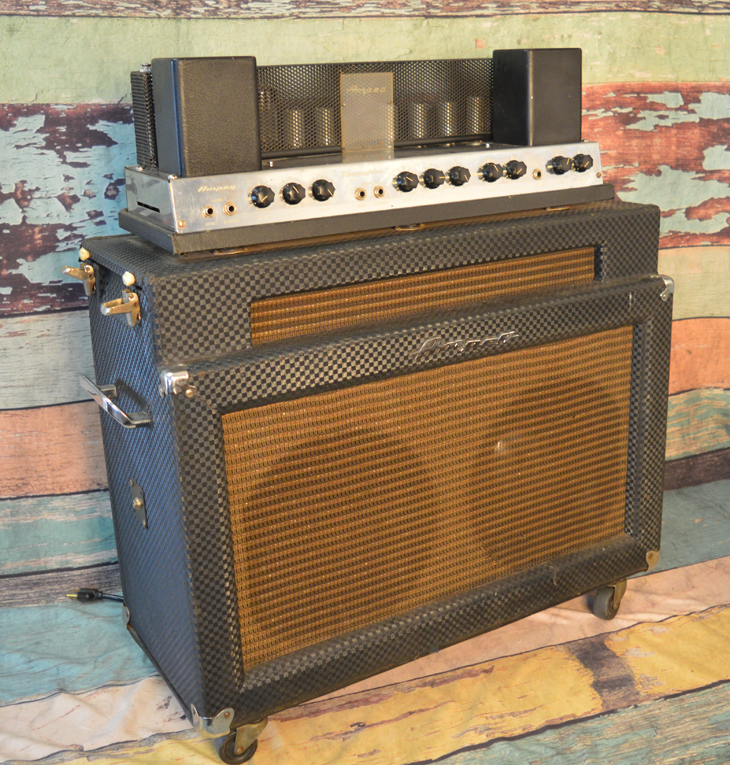 Ampeg 1965 Portaflex B-12XT
$
1,299
.00
Preview
PID: 4384
This original Ampeg Portaflex B-12XT flip-top amp is a tonal beast and is presented in excellent condition! The 2x12 speakers are driven by 50 watts through 2X7027A power tubes; at low volumes, the cleans are super crisp and with articulate mids and highs and a low end that brings a fullness to the overall tone that's hard to beat... crank it and put the tubes to work and it breaks up nicely with a super driven blues tone! With 2 channels, 4 inputs, reverb, and vabrato, the tonal options are wide ranging and sure to produce a sound that will inspire you, so place your order now! This amp is in great shape with age appropriate wear to the still shiny checkerboard tolex that would be expected on a gigging amp, the all original knobs, switches operate properly and the script on the control plate is crisp and clear, the front Ampeg logo was once repaired, and the brown mesh grill that was offered between 1962 and 1965 looks super with no staining and very little wear. This item is in used condition and may have mild wear, dings, dents, patina, or scratches commensurate with its age and use. If you have any questions, please contact us prior to placing your order.
View More Details
---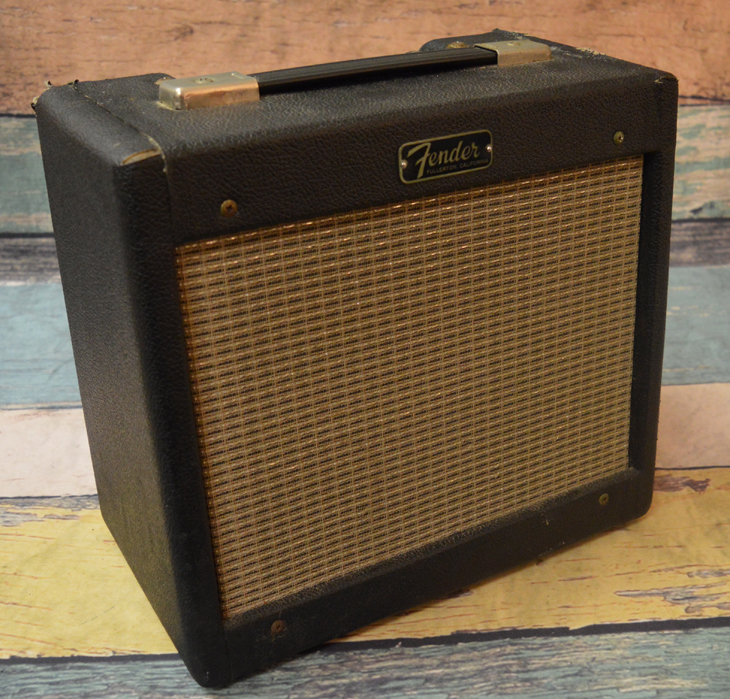 Fender Champ
$
1,795
.00
Preview
PID: 4377
1964 Fender Champ, rare transitional model 5F1 in black tolex finish, legendary low wattage combo with tube chart stamp dating to early 1964, all original transformers dated late 63, updated with a modern Jensen 8 inch speaker and safe three prong power chord, exceptional condition overall with no rips tears or stains in the grill cloth, Fender logo still firmly attached and only minor wear to through the tolex on the corners, this little amp sounds fantastic, perfect for studio recording , recently pro serviced and ready to rock!
View More Details
---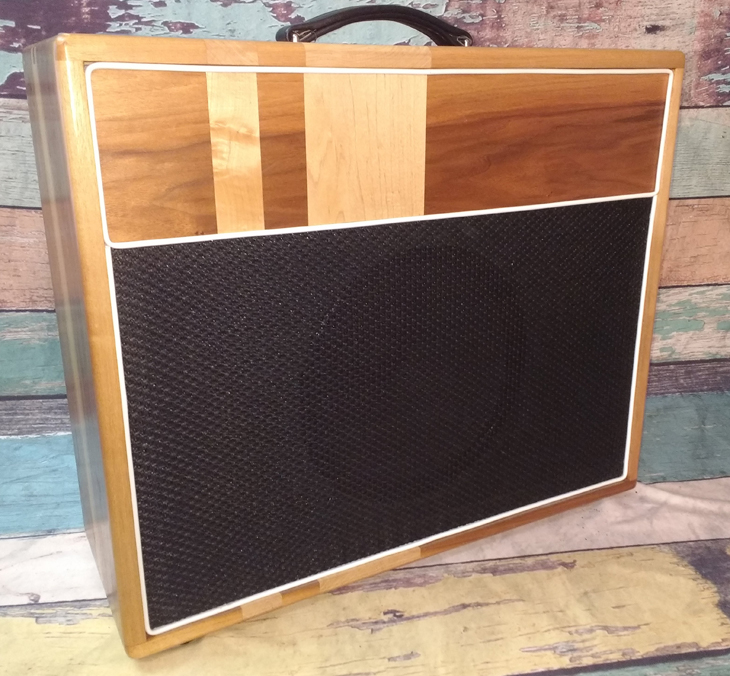 Miyako Designs 18W Boutique Marshall Clone
$
1,299
.00
Preview
PID: 4376
Miyako Designs handwired boutique made Marshall style 18 watt combo with a Celestion 25 watt G12M, stunning custom made cabinet signed and numbered 110008.This amp sounds fantastic, great overdriven tones at low volumes, with 2 channels that feature a single volume and tone control on the first channel and 3 way tone and volume control on second, this combo is in like new condition, with no tears snags or stains on the grill cloth and no nicks dings or scratches in the gorgeous hardwood cabinet, clean white piping is a nice accent around the grill and is in beautiful condition. This amp will look great on the stage, in your home or in the studio. Recently pro maintained and ready to go.
View More Details
---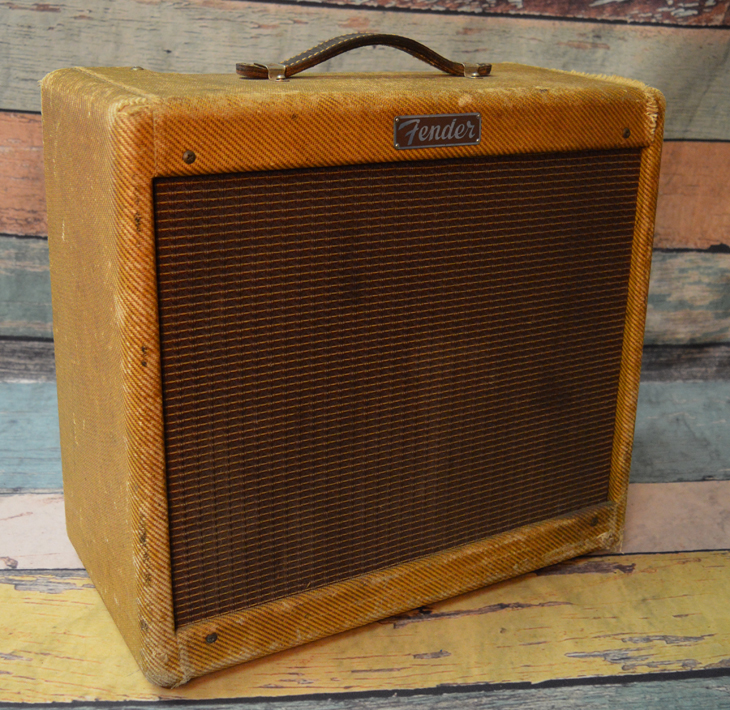 Fender Princeton
$
2,250
.00
Preview
PID: 4364
1957 Princeton, sweet low wattage tweed that's been recently serviced and is ready to rock, Tube chart stamped GE and pot codes date to late 56, all original transformers with some replaced caps to maintain its quiet operation, updated to a safe 3 prong power cable. Fender logo still attached, clean tear free grill cloth, overall the tweed is in exceptional condition with some light fraying at the top, original speaker with original wiring and solder connections. Sounds fantastic, great amp for the player or collector.
View More Details
---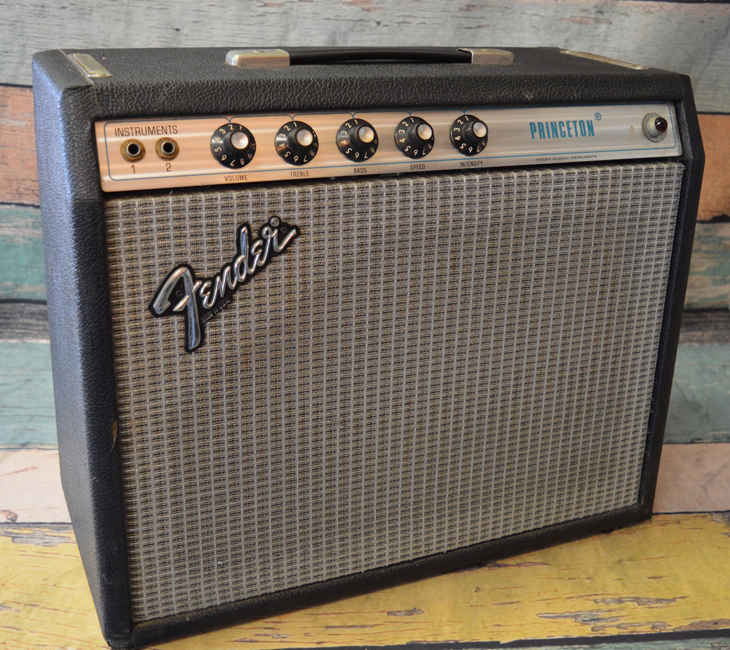 Fender Princeton
$
995
.00
Preview
PID: 4362
1979 Fender Princeton Amp, Quiet at idle and sounds fantastic with a great overdrive at low volume, perfect for the studio or stage. Recently pro serviced and ready to rock. Silver panel, Original CTS speaker with codes 1377922, pot codes 7911 all original transformers also date to 79, clean control panel, tolex covering is in good condition with a few minor blemishes, logo is firmly attached, no tears or stains in the grill cloth.
View More Details
---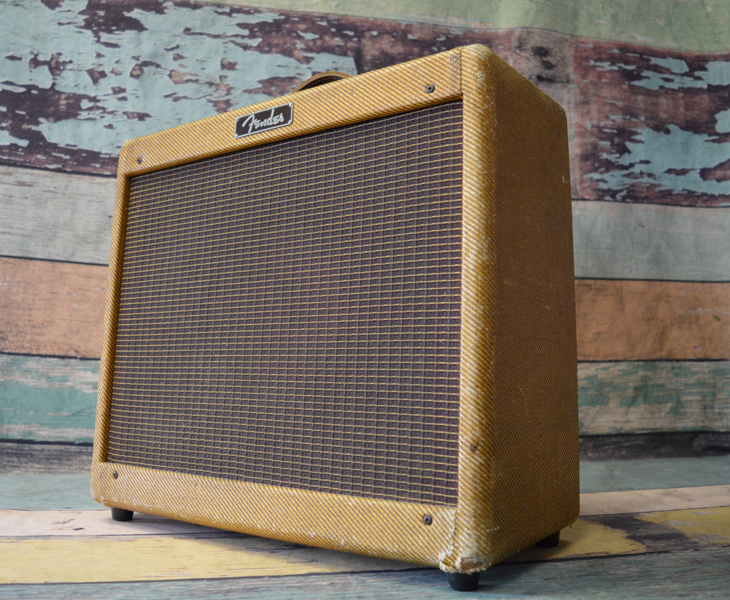 Fender Princeton
$
2,450
.00
Preview
PID: 4361
 A 1956 Fender Princeton in excellent condition And sounds great, not often we see an amp in this condition with all original transformers and the original Jensen speaker,The original tweed covering is completely in tact and firmly attached, as well as the original grill cloth. The original Fender name plate is also clean and firmly attached. there is minor to moderate wear on the cloth over the amp. The graphics on the control panel are clear and undisturbed. All of the electronics are in good working condition. The Fender Princeton is perfect for the living room or studio, and is sure to deliver that classic Fender tone, don't let this one get away!
View More Details
---