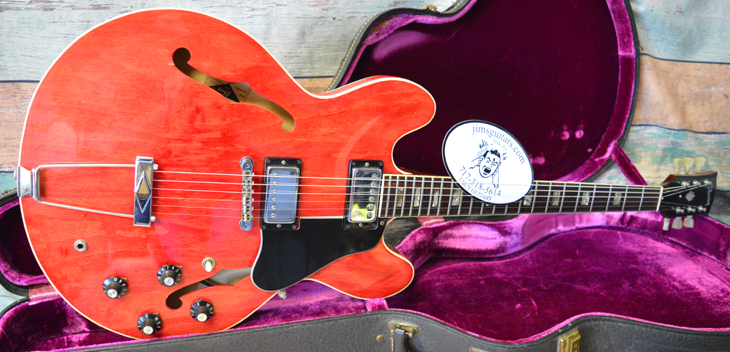 Gibson ES335 TD
$
5,195
.00
Preview
PID: 4358
1973 ES-335TD in a Vibrant unfaded cherry finish, This is a super clean example. This instrument looks stunning, 3 piece mahogany neck with no wear on the finish. Pot codes date to 73, no heavy pick scratching, all the chrome hardware shines with no pitting or corrosion, frets have lots of life with just moderate wear on the first-third frets, first and second strings, pearloid block inlays and original unbent Deluxe tuners, sounds fantastic with original patent number sticker humbucking pickups that read 7.19 at the bridge 7.32 at the neck. Weighs just 7lb 6oz, comes complete with the original black/purple lined Gibson hard shell case.
View More Details
---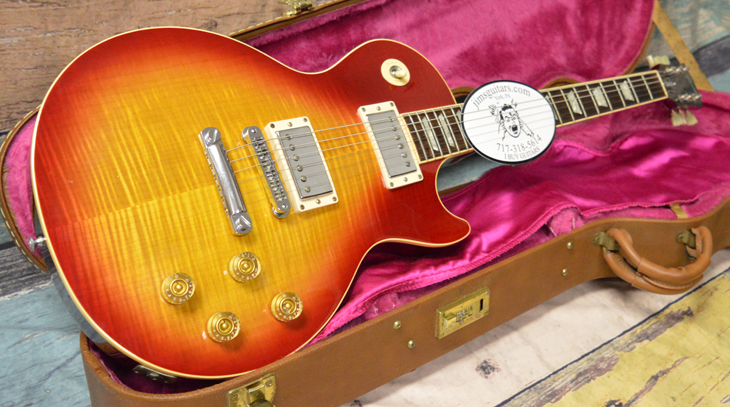 Gibson Les Paul Standard Premium Plus
$
2,649
.00
Preview
PID: 4342
1997 Les Paul Standard Premium Plus is in fantastic condition with no other way to say it but mint. The highly figured flame maple top in cherry sunburst is nothing less than amazing and is sure to remind you of an original Les Paul "burst" of 1958 at every glance! Weighing in at 9 lb 9.4 oz, you'll get that traditional Les Paul feel as soon as you pick it up, and with '57 Classic pickup readings of 7.86 at the neck, 4.95 middle, and 13.5 bridge, this beast bleeds rock and roll and plays like a dream; included is the original hardshell case, place your order today while its still available... it won't last long!
View More Details
---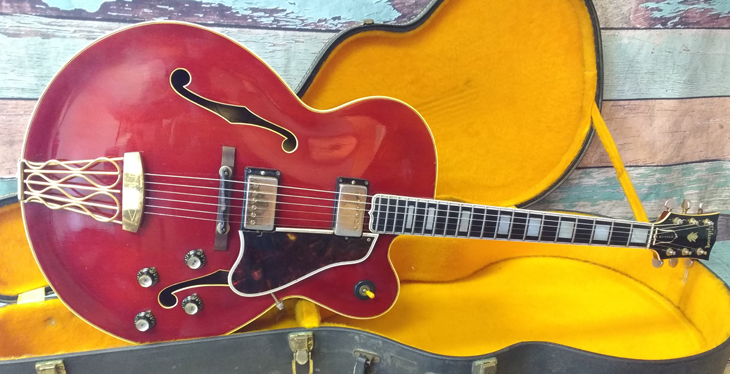 Gibson ES-5/L-5 CES
$
8,995
.00
Preview
PID: 4331
1952 Gibson ES-5 Custom, gorgeous factory refurbished guitar brought up to L-5 specs in the 62-63, with factory installed carved spruce top in cherry sunburst finish, early Patent Number humbuckers with PAF out put of 7.18 at the neck and 7.98 at the bridge, all wiring parts and layout conforms to L-5 CES specs, over-sized Grover Tuners and metal top reflector knobs, this guitar has a beautiful flame maple neck that had a meticulously executed headstock repair, white label stamped ES-5 with Z factory order number, serial number on sticker matches the double sized imprint on the headstock, 60's era black/yellow lined Gibson case included.
View More Details
---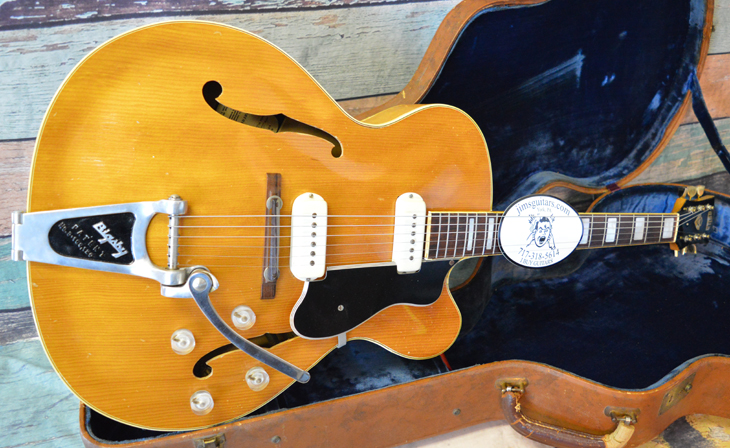 Guild X440
$
3,995
.00
Preview
PID: 4328
This 1953 Guild X440 in blonde hails from an experimental period in the company's history and is in exceptional condition with virtually all of the delicate binding present, the tuning machines have been gently replaced with Gibson Les Paul custom waffle back's with no reaming of the holes, the antique tone from the spruce top and stunning flame maple body will instantly carry you back to the 1950s! There is a small screw hole visible at the tremolo mount bracket, but the original Bigsby tremolo system is present and paired with the dual factory single coil pickups, this rare find is sure to provide all of the tools for a soulful playing experience... original brown Lifton hard shell case included so don't miss out on this historic instrument... CALL TODAY!
View More Details
---

Fender Stratocaster
$
2,995
.00
Preview
PID: 4326
'ÄÉThis vintage original 1979 Fender Stratocaster, is in excellent, all original condition, no excuses, custom color and rare hard tail model. This instrument is in exceptionally fine condition. Collector quality! All of the chrome hardware is in great condition with no rusting or discoloration, and all of the moving hardware still works perfectly. The knobs and the 5 way switch all work like new with no stickiness or scratchiness. The frets show hardly any visible wear and have plenty of life left in them. Includes original hardshell Fender case.
View More Details
---

Tokai LS-60
$
2,250
.00
Preview
PID: 4321
The Tokai LS-60 is hands down, the king of the famous and highly sought after Japanese lawsuit guitars, the Les Paul Reborn model from 1978 is no exception. This particular example is in nothing less than mint condition, and is a truly fascinating piece of history. A precursor to the "Love Rock" model, they sported all the desired features of the golden era 50's Les Paul's with sunburst finish and figured, book matched flame maple top. Pickups read 7.45 K and 7.98 K Ohms. Original Tokai branded hard shell case included.
View More Details
---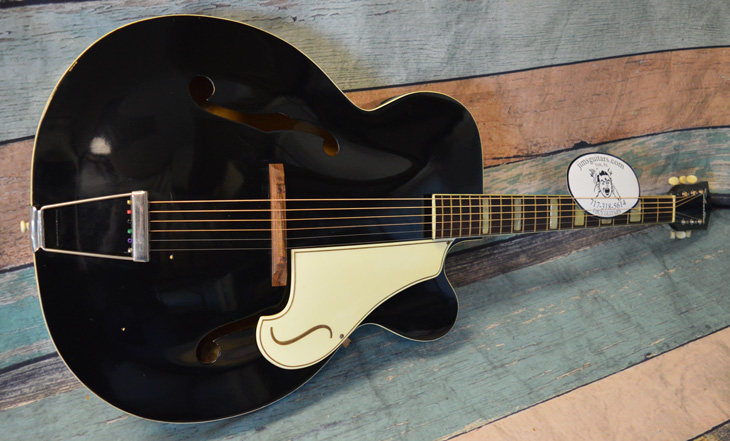 Silvertone Model 644
$
699
.00
Preview
PID: 4314
1959 Model 644 dubbed the Aristocrat is in excellent condition, the pearloid block inlays cream binding and matching pickguard with the S logo pop against the black finish, a non original trapeze style tailpiece was installed and there is minor fret buzz most prevalent at the 12th fret and above, great sounding back porch tone, includes newer aftermarket hardshell case.
View More Details
---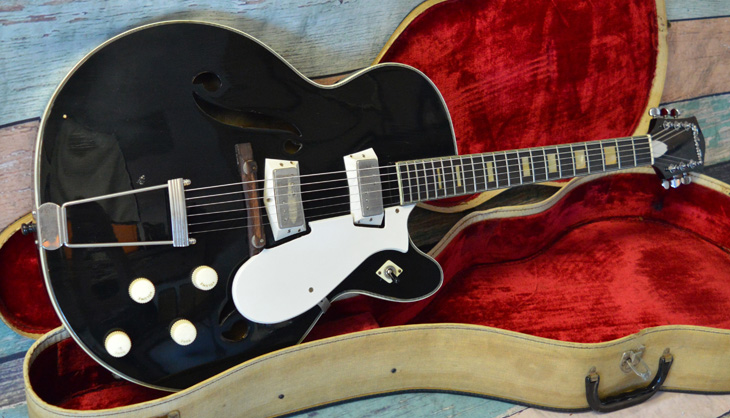 Silvertone Model 1446
$
1,499
.00
Preview
PID: 4313
1963 Silvertone 1446 known as the Chris Isaak model, is in exceptionally fine condition and is a great sounding and playing guitar, classic black with a bound rosewood fingerboard and block mother of pearl inlays, upgraded with Grover closed back tuning machines and trapeze tailpiece, includes the original hardshell case.
View More Details
---

G&L 1988 ASAT III
$
1,699
.00
Preview
PID: 4307
1988 G&L ASAT III in above excellent condition, awesome alternative for a Telecaster style guitar, these are rare birds in this configuration, 3 single coil MFD pick ups with output reading 4.1k at the bridge, 4.1k Mid and 4.3k neck, 5way selector, frets show very little wear and have lots of life left in them, cosmetically in exceptional condition. Don't let this one get away, complete with original hard shell case.
View More Details
---