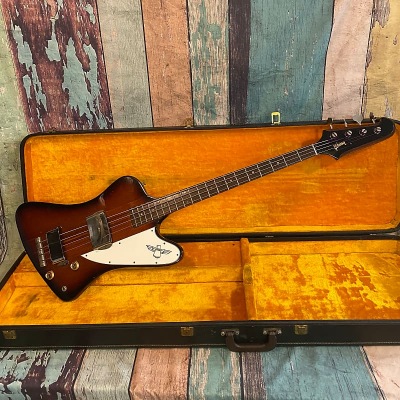 1964 Thunderbird Bass
$11595.00

This Rare reverse body bass is the choice for pros that want the deep bass response these full scale neck thru models have, Very Rare one of only 500 made in 1964 and designed with Ted McCarty this futuristic design was radical in the Beatles era. All original with no cracks, This bass works fine, Features nickel hardware, Brazilian rosewood fingerboard and a deep two color sunburst finish, both covers are there and it comes complete with the original hard case. The pick guard is not original to this bass. Like all instruments this shows normal signs of use, light scratches,dings, dents and minor wear commensurate with careful handling over the a 56 year old instrument.
Review This Product
Did you purchase this product? Simply fill out the form below with required fields [*], verification code and send. Your review will be posted when approved by site administrator. Review characters posted will be limited to .