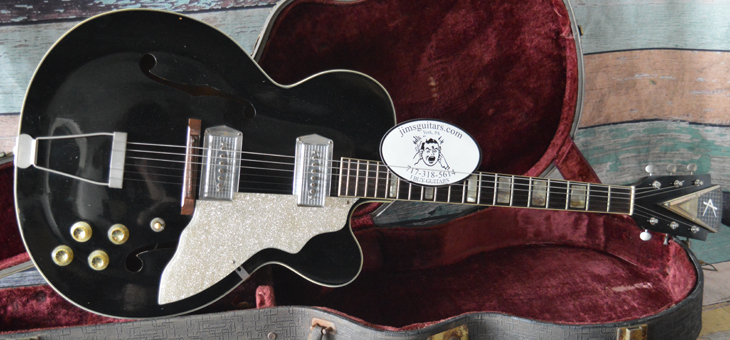 Kay Kay K8990 Upbeat
$
1,619
.00
Preview
PID: 4271
1950's Kay K8990 Upbeat with Kelvinator head stock and original black finish, it has a great playing neck with great frets, all original and 100% complete with the exception of the adjustment thumbwheels on the bridge, included, is a vintage Gretsch hardshell case.
View More Details
---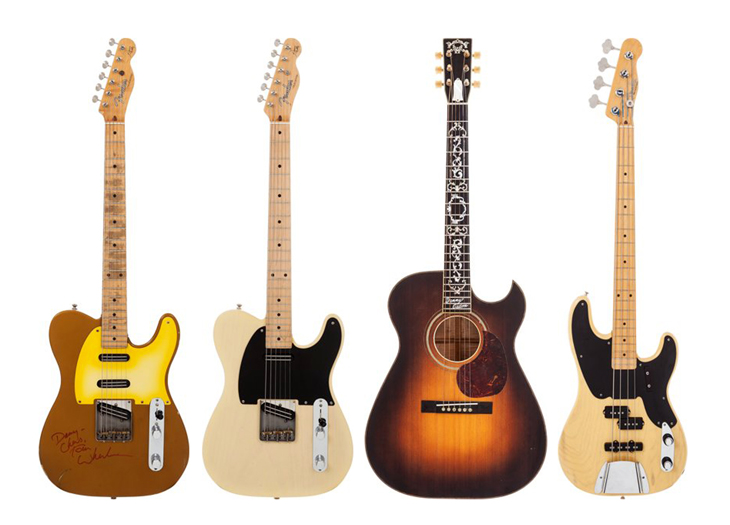 Danny Gatton Collection
Preview
PID: 4261
Here is your chance to own a piece of guitar history! These instruments were Danny's actual playing instruments in the years before his untimely passing. His 53' Tele was long gone and had been traded for a 36' Ford Coupe. His Fender Custom Shop number 1 Telecaster (first in thumbnail) was modified by Danny to include a center pickup. A new pickguard was also added, the original is still in the case. Tom Wheeler author of 'American Guitars' signed the instrument. The neck plate bears an inscription in Danny's hand, "Stolen from Danny Gatton, 1991'. His Fender Custom Shop number 2 Danny Gatton prototype Telecaster (second in thumbnail) is in factory original condition and includes the original shipping box from Fender to Danny's address in Maryland. It remains in near mint condition and was only played once in the studio according to Danny's handwritten letter. The third guitar pictured is a Randy Wood acoustic. It's a single cutaway flat-top with highly figured Maple back and sides, spruce top, sunburst finish, and ornate carving at the neck heel as well as multiple binding, Herringbone purfling, with ebony fingerboard, and abalone inlay from end to end. It is a masterwork with multiple inlay and Danny's name at the end of the fingerboard. This is the finest example of detail work by Master Builder Randy Wood. The final piece in the collection, the Fender Custom Shop P/J Bass, was made for Danny by Fender guitars as a benefit of his agreement for the signa
View More Details
---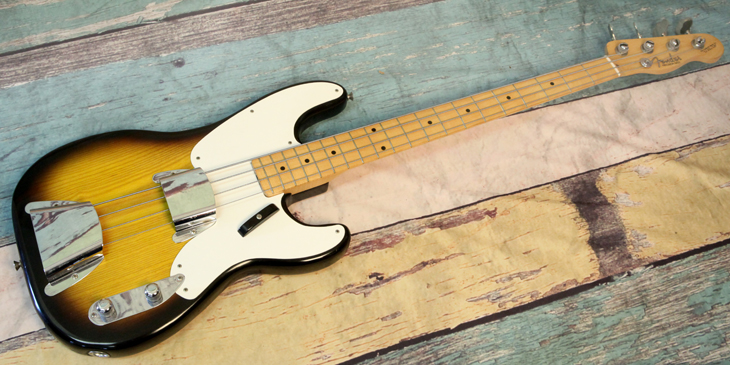 Fender Precision Bass
$
14,900
.00
Preview
PID: 4208
1955 Fender P-Bass, gorgeous, all original early model in 2 tone sunburst finish over a very tight grained ash body with little to no play wear, maple neck with original frets, no bodyrouting or modifications, amazing amounts of thump, complete with the original pick up and bridge covers, includes a modern hardshell case.
View More Details
---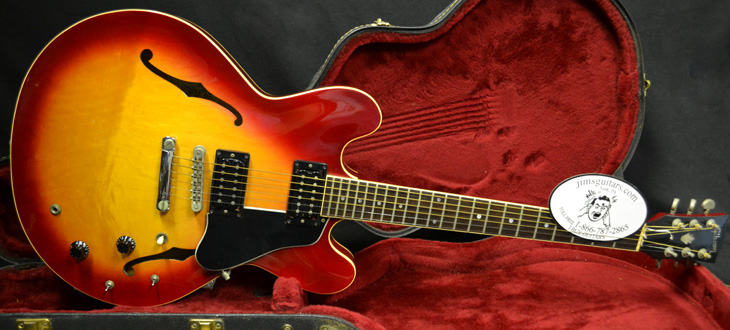 Gibson ES-335 Dot
$
2,995
.00
Preview
PID: 4178
1984 Gibson ES-335 Dot in a rare cherry burst finish, this super clean example is upgraded with coil tap switches and a replaced neck pickup that reads 7.5k and 7.68k on the bridge, a light weight example at just 7lbs 9 oz, plays and feels fantastic with a very comfortable neck profile, complete with original Gibson hard shell case.
View More Details
---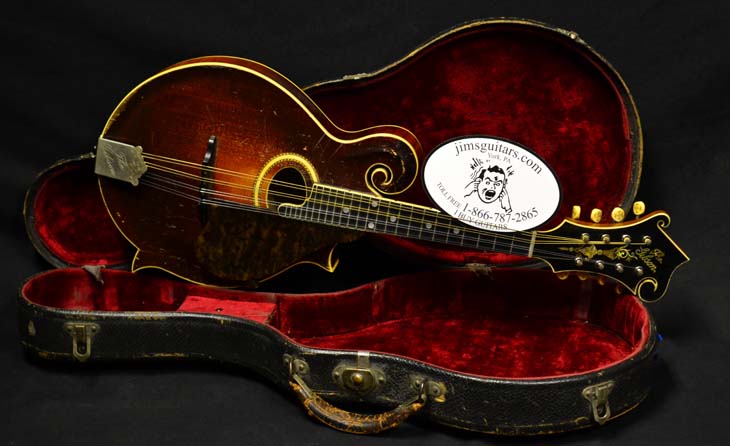 Gibson F4 Mandolin
$
6,995
.00
Preview
PID: 4131
1917 Gibson F4 Mandolin, excellent original example that sounds great and plays effortlessly, great woody tone with clear highs and the kind of chunk that all mandolin players dream of, small crack repair that's nearly invisible near the end pin on the side, otherwise issue free, early German-style tuners, arrow-straight neck, this instrument has its share of honest wear but is solid even after 100 years, comes complete with original Gibson hard shell case.
View More Details
---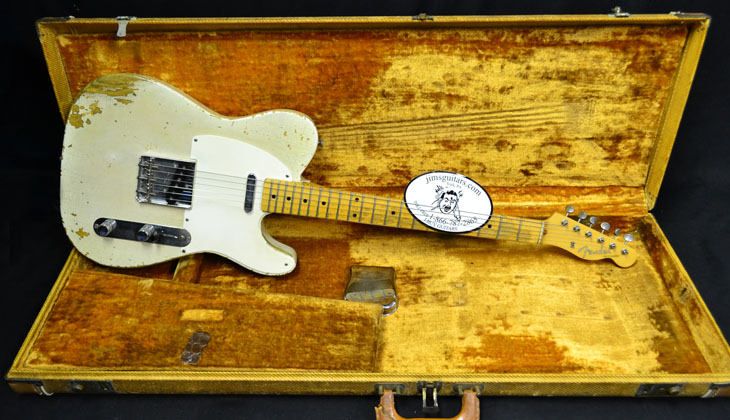 Fender Telecaster
$
16,900
.00
Preview
PID: 4128
1958 Fender Telecaster, all original survivor guitar, light kinda feather weight example, with an abnormally large neck profile, great tone and overall playability, lots of honest play wear but no signs of abuse, this is one we have trouble putting down and you will to, includes the original bridge cover, limited ephemera and original tweed hard shell case.
View More Details
---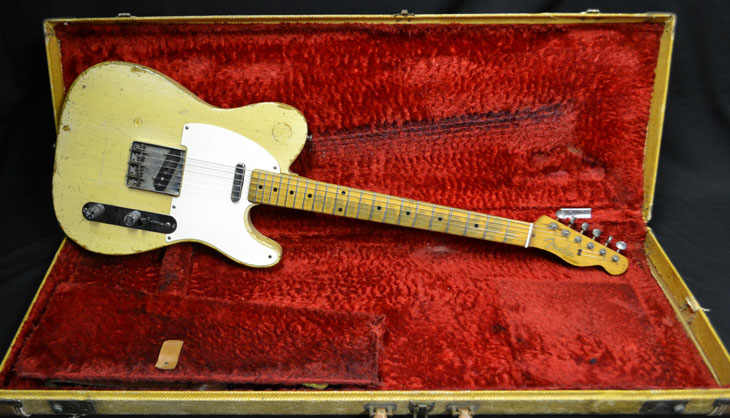 Fender Telecaster
$
19,900
.00
Preview
PID: 4124
1956 Fender Telecaster nice light weight example, acoustically loud and evenly balanced, spectacular playability and clear bell like tone, all original instrument, that has seen lots and lots of playing, pots codes date 304620, neck and body date 8/56, professionally refretted and nut installed to insure proper playability, this guitar has a nice large V-neck profile, we cant put it down and you wont be able to either. Comes complete with original polishing cloth, strap and tweed hard shell case.
View More Details
---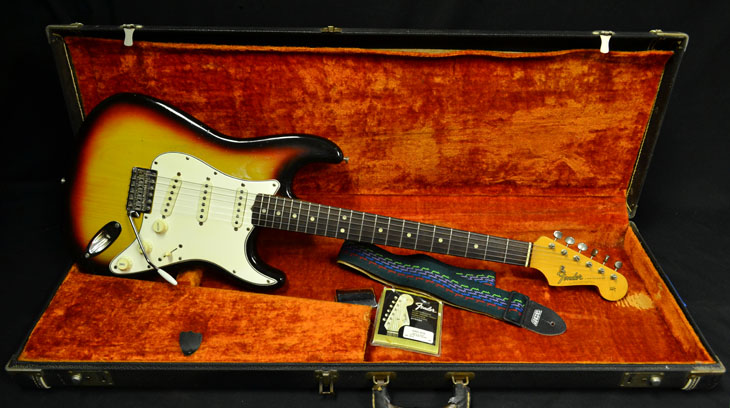 Fender Stratocaster
$
13,500
.00
Preview
PID: 4122
1965 Fender Stratocaster, bright sunburst finish with great-sounding gray-bottom pickups, all-original guitar, very chimey and resonant alder body, white guard, nice clean guitar with factory small headstock with transition logo, some worm trail and wear through the finish on the back, less than normal amount of wear you would expect, all the finish is still intact on the back of the neck and even sports the original factory large frets, recent pro setup, this guitar is what its all about, comes complete with the original no logo factory Fender hard shell case.
View More Details
---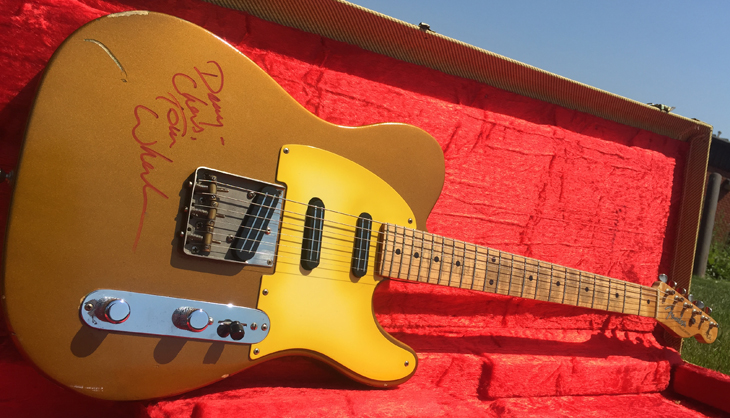 Fender Danny Gatton Signature Telecaster Prototype 1
$
50,000
.00
Preview
PID: 4036
1991 Danny Gatton Signature Telecaster. This guitar is prototype number 1 and was used extensively for performance and recording by Danny himself, copper finish, signed by Tom Wheeler, the center pickup was added by Danny and the original pickguard remains in the case, included are the original hard shell case, bridge cover, C.O.A., some other ephemera, and the original shipping carton bearing Dannys address.
View More Details
---