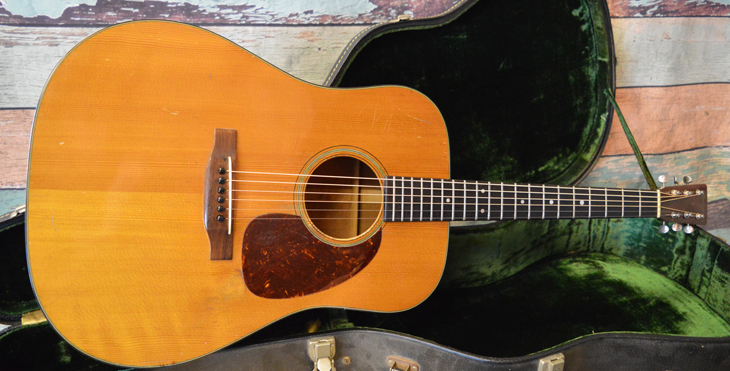 Martin D-18
$
6,250
.00
Preview
PID: 4353
1952 D-18, gorgeous early 50's Martin, that sounds articulate and full with lots of low end warmth, looks as beautiful as it sounds, this guitars gorgeous mahogany back looks unreal with no rash or wear, there is the expected small nicks on the top and sides and two holes were added at the neck heel for a strap clip that has long been removed, overall this guitar is in excellent condition, with no cracks in the top, back or sides, only a quarter sized spot of wood filler added below the pick guard to repair fingernail wear, maintains the original Kluson single line tuners, Brazilian rosewood fingerboard and original pick guard is firmly attached, under black light inspection there is no evidence of a neck set or the original bridge being re-glued, this is one of the cleanest 50's Martins we've seen, one for the collector or player, comes complete with the original green lined archtop Martin case.
View More Details
---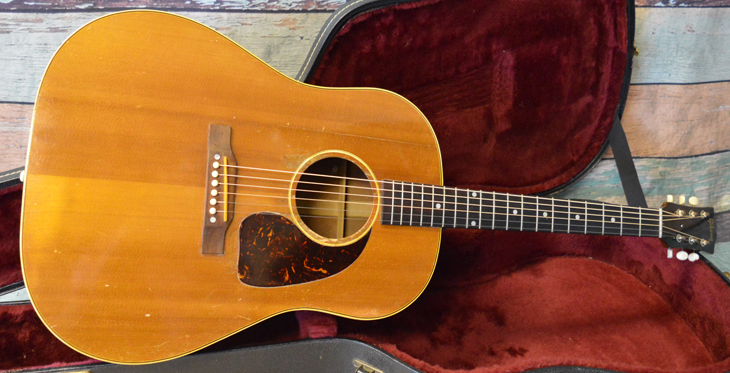 Gibson J-50
$
4,995
.00
Preview
PID: 4352
All original 1954 Gibson J-50 in excellent condition, incredible volume and powerful mid range, warm woody tone that is even across the spectrum. Set up for easy playability. Strap button added on the neck heel for players that like to stand, no lifting of the bridge, some touch up in the normal places around the sound hole and below the pick guard only, Fantastic original condition with only one old, barely viable, straight line crack repair approximately 6" noted above the sound hole no other cracks on the back, or sides, strip tuning machines are in good working condition, normal amount of wear from age on the body. small amount of typical hand wear on the back of the neck. Includes modern Martin branded deluxe hard shell case
View More Details
---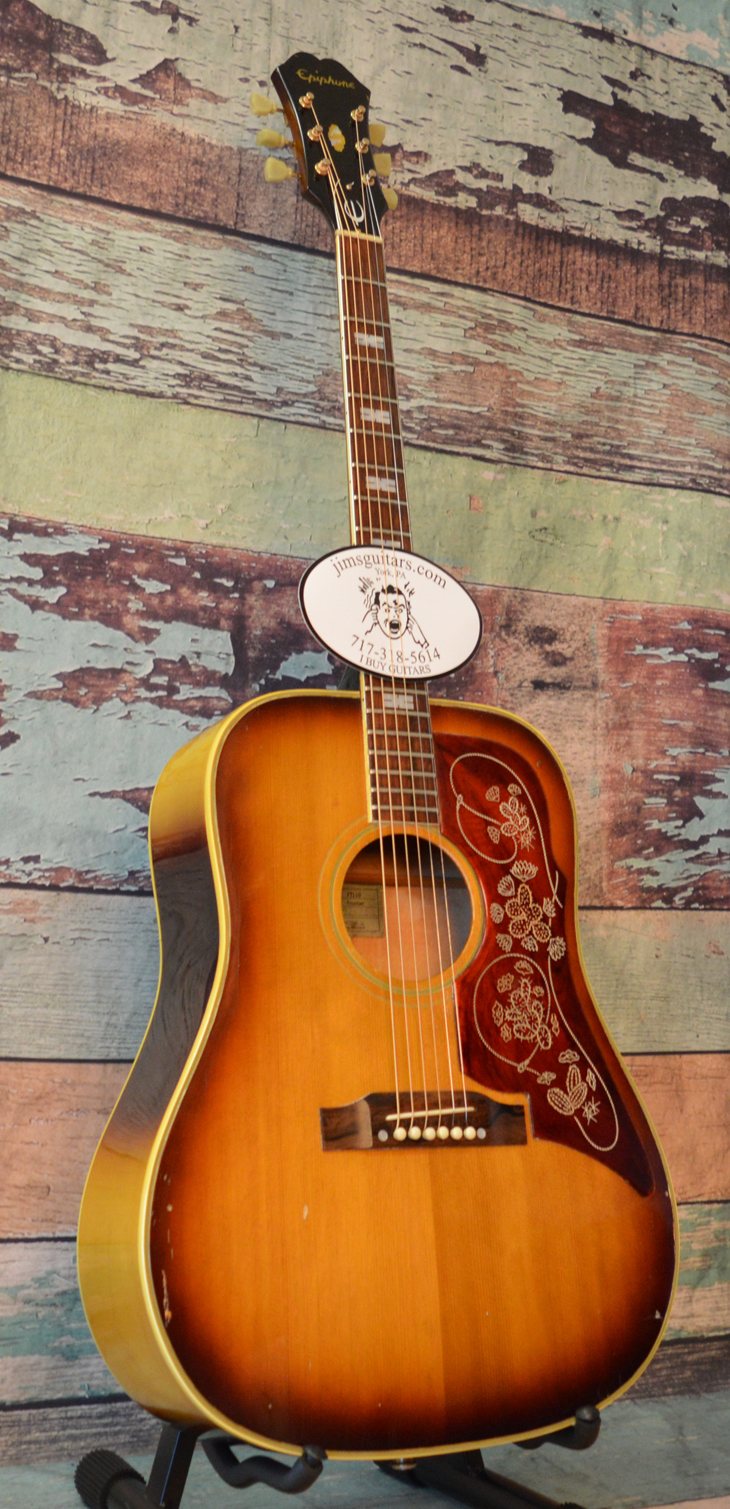 Epiphone FT-110 Frontier
$
4,750
.00
Preview
PID: 4351
This super-rare (1 of 147) made in the USA 1967 Epiphone FT-110 Frontier acoustic electric guitar is in exceptionally fine condition with an absolutely stunning sunburst finish over the spruce top and flame maple back and sides, there is normal finish checking present on the body and neck that adds character and an antique look to the cream pinstriped binding that sets it apart from other instruments. This is a tone monster with superb midrange articulation when fingerpicked and a boomy bass filled tone when strummed with a pick... activate the discretely wired aftermarket electronics and you'll feel like you are in the studio. Structurally sound and in amazing original condition, includes a new Martin deluxe hardshell case so don't miss out on this blast from the past!
View More Details
---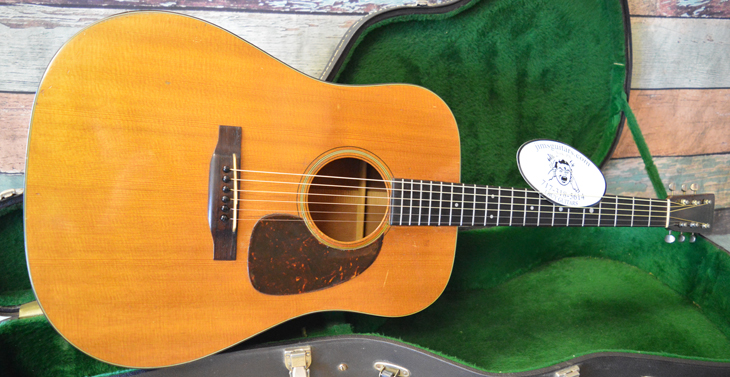 Martin D-18
$
5,995
.00
Preview
PID: 4348
1958 Martin D-18, extremely well kept and in original condition, a gorgeous instrument with no evidence of heavy play wear or abuse, pick guard is firmly glued in place with only light pick scratching, all the binding is in place and the bridge shows no evidence of being reglued or repaired, original Kluson deluxe tuners on a shiny headstock, black light examine reveals some old over spray near pickguard and sound hole and treble side near the top, there are no top cracks with the exception of normal potato chip crack between the guard and the bridge, all the rest of the finish is original with some wear through the finish and kapo marks on the back of the neck. There is an obvious drop repair with two inch long cracks on the area of the rear lower bout on the sides and back and a small area of over spray, there are two other repaired cracks on the back inch and half and 3 inch long respectively but otherwise way above average condition. Only a small amount of belt buckle worming is present on the back and the normal knee wear on the treble side waist side. Warm and musical tone that is even across the whole range, low action with plenty of saddle and easy playability, make this a shop favorite, complete with original green lined case.
View More Details
---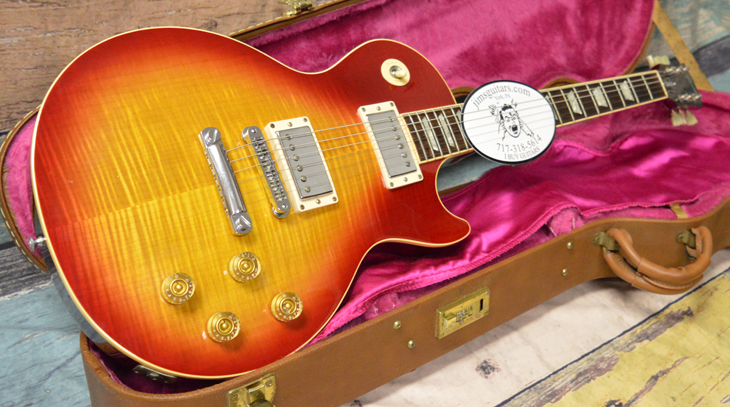 Gibson Les Paul Standard Premium Plus
$
2,649
.00
Preview
PID: 4342
1997 Les Paul Standard Premium Plus is in fantastic condition with no other way to say it but mint. The highly figured flame maple top in cherry sunburst is nothing less than amazing and is sure to remind you of an original Les Paul "burst" of 1958 at every glance! Weighing in at 9 lb 9.4 oz, you'll get that traditional Les Paul feel as soon as you pick it up, and with '57 Classic pickup readings of 7.86 at the neck, 4.95 middle, and 13.5 bridge, this beast bleeds rock and roll and plays like a dream; included is the original hardshell case, place your order today while its still available... it won't last long!
View More Details
---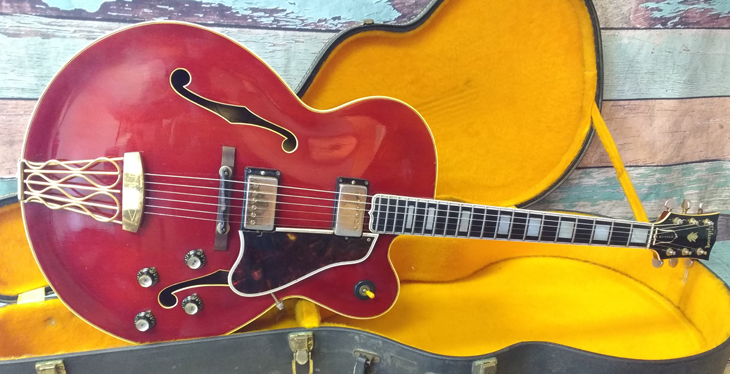 Gibson ES-5/L-5 CES
$
8,995
.00
Preview
PID: 4331
1952 Gibson ES-5 Custom, gorgeous factory refurbished guitar brought up to L-5 specs in the 62-63, with factory installed carved spruce top in cherry sunburst finish, early Patent Number humbuckers with PAF out put of 7.18 at the neck and 7.98 at the bridge, all wiring parts and layout conforms to L-5 CES specs, over-sized Grover Tuners and metal top reflector knobs, this guitar has a beautiful flame maple neck that had a meticulously executed headstock repair, white label stamped ES-5 with Z factory order number, serial number on sticker matches the double sized imprint on the headstock, 60's era black/yellow lined Gibson case included.
View More Details
---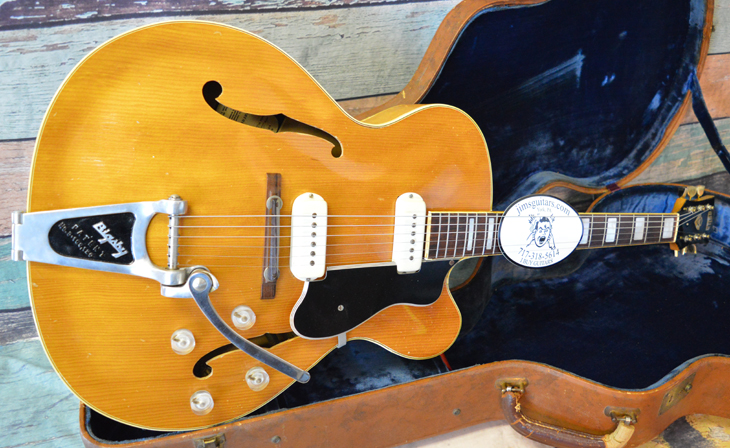 Guild X440
$
3,995
.00
Preview
PID: 4328
This 1953 Guild X440 in blonde hails from an experimental period in the company's history and is in exceptional condition with virtually all of the delicate binding present, the tuning machines have been gently replaced with Gibson Les Paul custom waffle back's with no reaming of the holes, the antique tone from the spruce top and stunning flame maple body will instantly carry you back to the 1950s! There is a small screw hole visible at the tremolo mount bracket, but the original Bigsby tremolo system is present and paired with the dual factory single coil pickups, this rare find is sure to provide all of the tools for a soulful playing experience... original brown Lifton hard shell case included so don't miss out on this historic instrument... CALL TODAY!
View More Details
---

Fender Stratocaster
$
2,995
.00
Preview
PID: 4326
'ÄÉThis vintage original 1979 Fender Stratocaster, is in excellent, all original condition, no excuses, custom color and rare hard tail model. This instrument is in exceptionally fine condition. Collector quality! All of the chrome hardware is in great condition with no rusting or discoloration, and all of the moving hardware still works perfectly. The knobs and the 5 way switch all work like new with no stickiness or scratchiness. The frets show hardly any visible wear and have plenty of life left in them. Includes original hardshell Fender case.
View More Details
---

Tokai LS-60
$
2,250
.00
Preview
PID: 4321
The Tokai LS-60 is hands down, the king of the famous and highly sought after Japanese lawsuit guitars, the Les Paul Reborn model from 1978 is no exception. This particular example is in nothing less than mint condition, and is a truly fascinating piece of history. A precursor to the "Love Rock" model, they sported all the desired features of the golden era 50's Les Paul's with sunburst finish and figured, book matched flame maple top. Pickups read 7.45 K and 7.98 K Ohms. Original Tokai branded hard shell case included.
View More Details
---