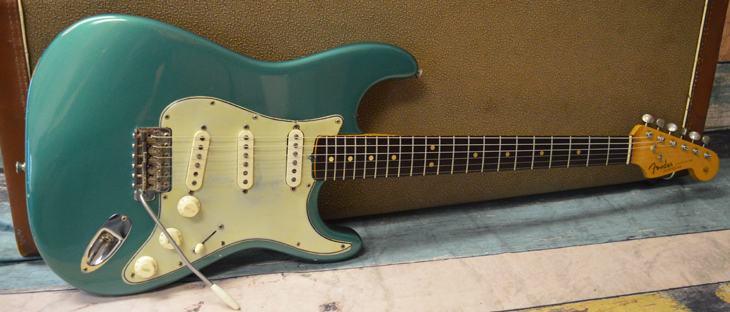 Fender Stratocaster
$
12,900
.00
Preview
PID: 4370
1964 Fender Stratocaster sounds and looks amazing with an old body only refin in Sherwood Green and all original parts. Fat neck that has worn smooth on the back, arrow straight with a Brazilian rosewood fingerboard and clay dots, frets that show little to no wear, unbent single line Kluson tuners, spaghetti logo, original mint green guard shows typical shrinkage around the pickup, amazing untouched factory pickups read 5.66 at the bridge, 5.95 in the middle, 6.5k at the neck, and are dated April 16 1964, pot codes date to late 63, absolutely no changes under the guard, weighs just 7lbs 7oz, comes complete with period correct brown tolex Fender case with an interior dyed brown ages ago? Recent pro set up with low action for easy playing. Do not let this one get away, looks, tone and feel at a bargain price.
View More Details
---

Fender Telecaster
$
4,449
.00
Preview
PID: 4369
1971 Fender Telecaster in blonde finish over ash body with white 3-ply guard, plays like a dream and sounds fantastic, all original instrument in exceptional condition, no routing or changes under the guard, Pot codes date to early 71 Maple neck with 69 date, frets show little sign of wear and have a lot of life. Back appears to have some color transfer from laying on a music book but no harm done and barely noticeable, pickups read 6.83k at the neck, and 5.62 at the bridge and 3.24 in the middle. Weighs 9lb 1oz, original unbent F-tuners, recent pro set up, complete with the original orange lined black tolex Fender hard shell case.
View More Details
---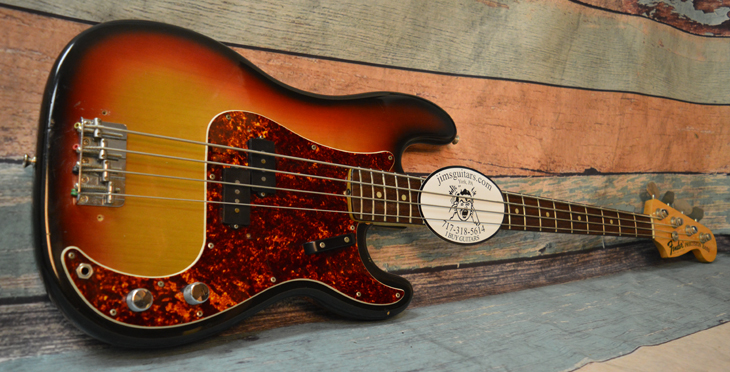 Precision Bass
$
5,995
.00
Preview
PID: 4365
This all original 1969 Precision bass is in exceptionally fine condition with no modifications or non factory routing, presented in sunburst with a stunningly patterned tortoise pickguard, this super-light bass weighs at an astonishing 8 lbs 7.6 oz, as with many Fender basses of this era, the bridge and pickup covers have been removed, and if not for the light wear to the finish on the back side of the upper horn, this guitar would approach mint condition. The volume and tone pot codes are both 137-6642 and the neck heel is stamped "5 May 69 B". Included is a new modern hard shell case, place your order quickly on this one... it may not last through the weekend!
View More Details
---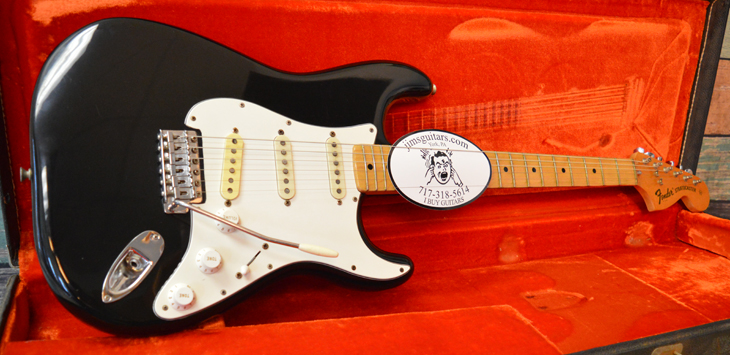 Fender Stratocaster
$
4,995
.00
Preview
PID: 4360
This 1974 Fender Stratocaster in factory black is in Exceptionally Fine condition, the playability and tone of this fine instrument is exactly what you would expect from an early '70s strat. Brass nut installed for better sustain, original stagger pole piece pickups, lightweight at 8 lbs 3.2 oz, Pickup stamp codes,codes: Neck 161074, Middle 171074, Bridge 181074 strong evenly balanced pickups are neck 5.58 middle is 5.42 and bridge reads 5.53,Pot dates: Middle tone pot 137-7406, Neck tone pot 137-7406, Volume pot 137-7406, gorgeous maple neck with heel stamp in green ink: 0903-4551 #4201, Neck pocket stamped: M Herrera. Recent pro setup and low action have made this a shop favorite easy to play with a bright warm voice. This strat is very clean overall, there is very minimal fret wear and minor worm trail wear not thru the finish near the contour on the back otherwise clean. normal case wear is present on the lower horn treble side.overall excellent condition. Don't miss this rare opportunity to make it yours! Includes the clean original plush red lined Fender case!
View More Details
---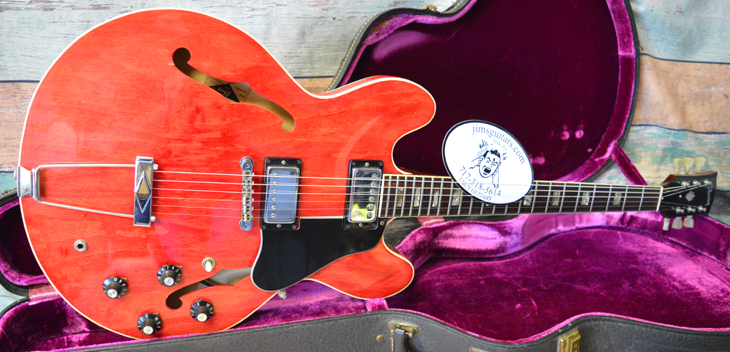 Gibson ES335 TD
$
5,195
.00
Preview
PID: 4358
1973 ES-335TD in a Vibrant unfaded cherry finish, This is a super clean example. This instrument looks stunning, 3 piece mahogany neck with no wear on the finish. Pot codes date to 73, no heavy pick scratching, all the chrome hardware shines with no pitting or corrosion, frets have lots of life with just moderate wear on the first-third frets, first and second strings, pearloid block inlays and original unbent Deluxe tuners, sounds fantastic with original patent number sticker humbucking pickups that read 7.19 at the bridge 7.32 at the neck. Weighs just 7lb 6oz, comes complete with the original black/purple lined Gibson hard shell case.
View More Details
---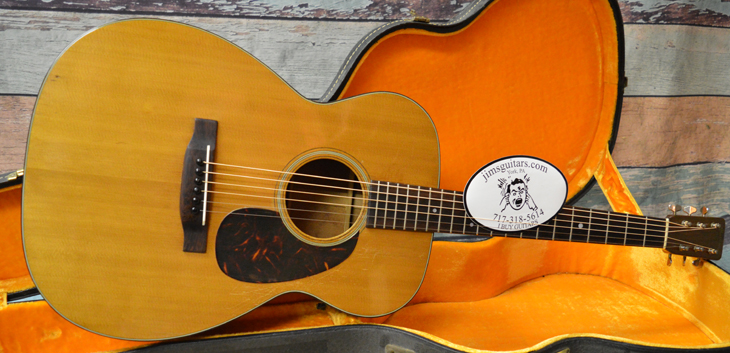 Martin 00-18
$
4,499
.00
Preview
PID: 4355
1964 Martin 00-18, a fine example, this instrument belies it small size with a big, full and rich sound, this instrument is in amazing exceptionally fine condition. exceptionally clean and wonderfully preserved spruce top with mahogany back and sides, a few small nicks and dings with typical potato chip crack starting between the pickguard and the sound hole and a small crack between the neck and the sound hole, otherwise no issues on the top back or sides, great playability with nice low action on a figured Brazilian rosewood fingerboard and bridge, black light reveals no evidence of neck reset or bridge reglue, original open geared Grover tuners and firmly attached tortoise guard and binding with no breaks or repairs, Complete with the original, yellow lined, arch top Martin case.
View More Details
---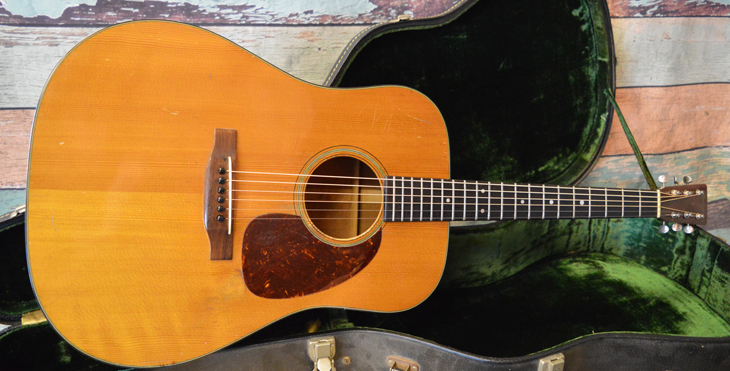 Martin D-18
$
6,250
.00
Preview
PID: 4353
1952 D-18, gorgeous early 50's Martin, that sounds articulate and full with lots of low end warmth, looks as beautiful as it sounds, this guitars gorgeous mahogany back looks unreal with no rash or wear, there is the expected small nicks on the top and sides and two holes were added at the neck heel for a strap clip that has long been removed, overall this guitar is in excellent condition, with no cracks in the top, back or sides, only a quarter sized spot of wood filler added below the pick guard to repair fingernail wear, maintains the original Kluson single line tuners, Brazilian rosewood fingerboard and original pick guard is firmly attached, under black light inspection there is no evidence of a neck set or the original bridge being re-glued, this is one of the cleanest 50's Martins we've seen, one for the collector or player, comes complete with the original green lined archtop Martin case.
View More Details
---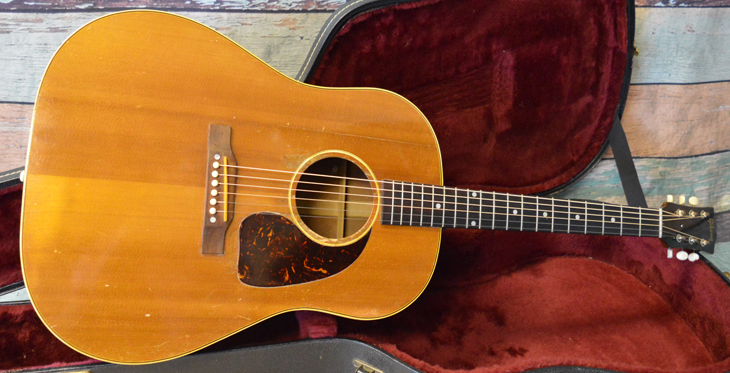 Gibson J-50
$
4,995
.00
Preview
PID: 4352
All original 1954 Gibson J-50 in excellent condition, incredible volume and powerful mid range, warm woody tone that is even across the spectrum. Set up for easy playability. Strap button added on the neck heel for players that like to stand, no lifting of the bridge, some touch up in the normal places around the sound hole and below the pick guard only, Fantastic original condition with only one old, barely viable, straight line crack repair approximately 6" noted above the sound hole no other cracks on the back, or sides, strip tuning machines are in good working condition, normal amount of wear from age on the body. small amount of typical hand wear on the back of the neck. Includes modern Martin branded deluxe hard shell case
View More Details
---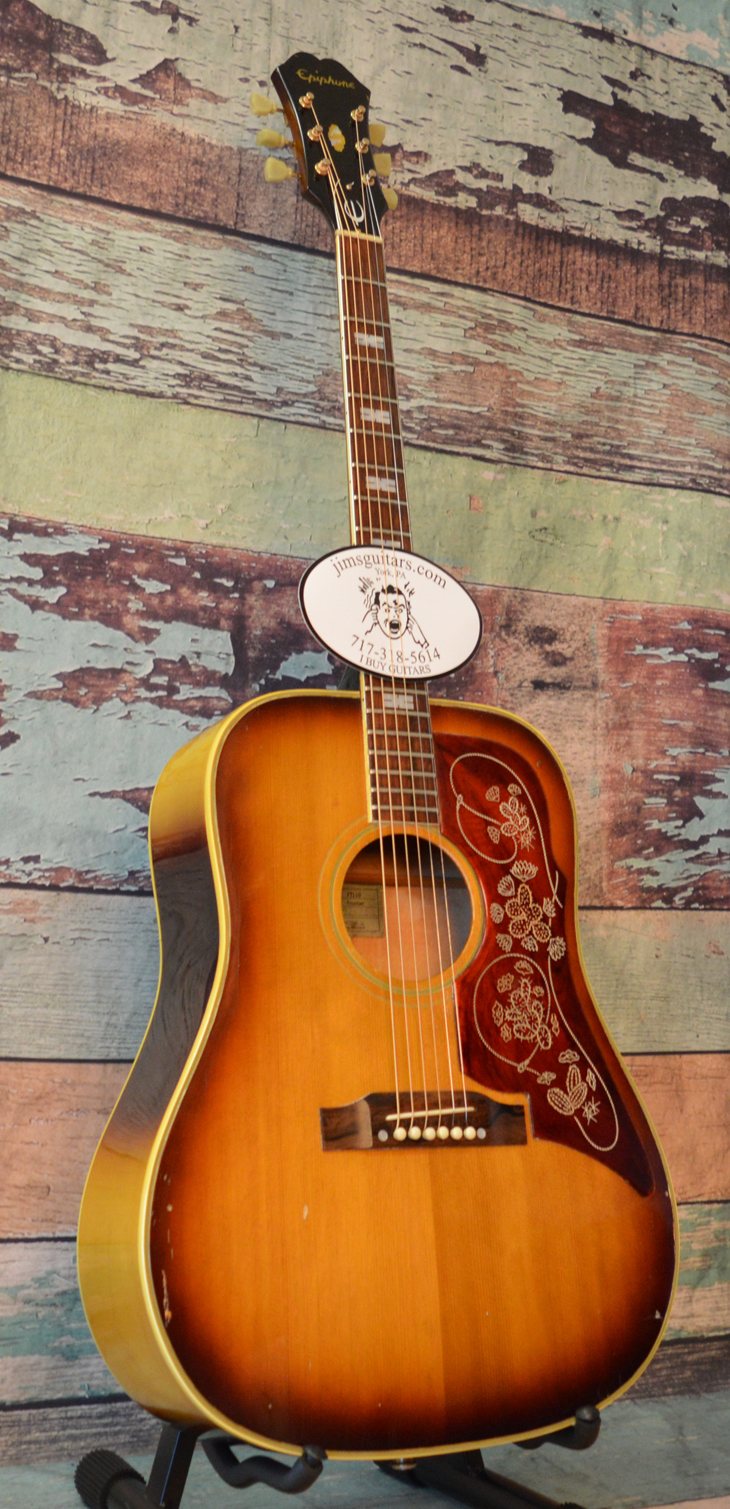 Epiphone FT-110 Frontier
$
4,750
.00
Preview
PID: 4351
This super-rare (1 of 147) made in the USA 1967 Epiphone FT-110 Frontier acoustic electric guitar is in exceptionally fine condition with an absolutely stunning sunburst finish over the spruce top and flame maple back and sides, there is normal finish checking present on the body and neck that adds character and an antique look to the cream pinstriped binding that sets it apart from other instruments. This is a tone monster with superb midrange articulation when fingerpicked and a boomy bass filled tone when strummed with a pick... activate the discretely wired aftermarket electronics and you'll feel like you are in the studio. Structurally sound and in amazing original condition, includes a new Martin deluxe hardshell case so don't miss out on this blast from the past!
View More Details
---